If you want a perfect representation of how much lazier Hollywood has gotten in the past decades, just look at the trailer for the upcoming J.J. Abrams Star Wars. Back in the '70s, those movies were full of elaborate puppets and people sweating inside droids, but, now, it's all digital ef- hold up, the little guy below is a remote-controlled robot?!
Lucasfilm
So says Mark Hamill, and we're not ones to doubt a man with a beard.
Huh. Apparently, some filmmakers are pushing back against the monopoly of CGI by doing crazy shit like dropping an actual plane on Scotland or hijacking NASA equipment -- all of it just to get a cool shot that you probably won't even realize was made using physical objects. Such as ...
Interstellar

Had Real Dust Storms, Physical Robots, and a 52-Foot Spaceship
Paramount Pictures
The general rule for Christopher Nolan's work is that if an effect looks unearthly and impossible, he probably demanded a way to do it for real. For example, remember in Interstellar when (spoilers ahead, dummy) Matthew McConaughey flies into a wormhole and sees the intangible fabric that weaves together space and time? You know, this trippy shit: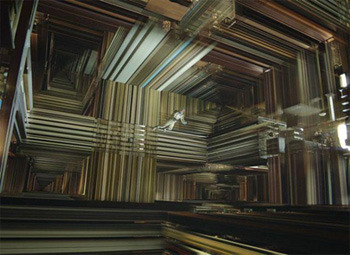 Paramount Pictures
Pictured: God's butthole.
You probably didn't even think about how they made that scene, because, well, this is exactly what CGI was invented for. How else could they do it, by swinging McConaughey in front of some sort of fucked up fun house? Yeah, pretty much.
Running Press
"Alright, alright, alright ... hey, there's echo in here."
The interior wormhole scenes were shot in an actual three-story set, an "impregnable mesh of installation art" made out of hi-res laser prints, wall projections, and some good old fashioned perspective tricks. Not content with building crazy sets, however, Nolan's team actually went out and shot on the top of a melted glacier to create the all-ocean planet -- because water tanks in studios are for pussies.
Paramount Pictures
This is half-glacier, half-actor tears.
What's that? You thought the film's smartass, knucklebone-looking robot, TARS, was definitely CGI? Nope: Roughly 80 percent of the robot you see in the film was accomplished by creating physical models operated by hydraulic puppetry. They literally had TARS's voice actor, Bill Irwin, standing behind the model and delivering his lines.
Paramount Pictures
Kind of like how Andy Serkis wore a monkey's skin for Dawn of the Planet of the Apes.
Sounds strenuous ... until you learn that they also brought a 52-foot spaceship along to fucking lower from a crane.
Paramount Pictures
"Yes, this is a fake spaceship that we built, not the real one where I arrived on your planet." - Ch'ristopher Nol-An.
Another thing everyone assumed was CGI were those insane dust storms because most directors are considerate enough not to put A-list actors in situations where their eyeballs are constantly attacked by flying dirt particles. Not Nolan.
Paramount Pictures
Nolan made sure the fans were pointed directly at Casey Affleck's mouth because fuck that guy.
Hell, they couldn't even bring themselves to green screen outer space, opting instead to build giant space-projecting walls outside of their equally massive sets.
Paramount Pictures
"This isn't what I meant when I said build me a universe, but I guess it works."
Now we're sad that Christopher Nolan isn't directing the new Jurassic Park movie because we're pretty sure he would have figured out how clone real dinosaurs.
Edge of Tomorrow

Really Tried to Kill Tom Cruise
Warner Bros.
Edge of Tomorrow got so little blood pumping at the box office that it actually changed its name to Live Die Repeat: Edge Of Tomorrow for the Blu-ray release, even though you would think the original title would have brought in some business from confused fans thinking it was a new James Bond movie. It's a shame when you consider that not only is the film pretty non-terrible, but everyone involved suffered near-death experiences to make it a reality. At least, judging from the behind-the-scenes footage:
Warner Bros.
Even the studio accountants ended up with post-traumatic stress disorder.
Just so we're clear, that is not a stuntman in the top right of the GIF, but rather accomplished Grim Reaper teabagger and actor (in that order) Tom Cruise getting pummeled with whizzing rockets and flung bodies. In fairness, he did have a 125-pound replica exo-armor suit to protect him most of the time ... so long as he was willing to become a human marionette puppet in the process.
Warner Bros.
Dun-dun dun-dun dun-dun-dun!
Of course, those clunky mech suits probably don't bring a lot of peace of mind when you're having real fireballs tossed at your ass, as director Doug Liman did to the actors in the giant backlot warzone playground the studio created for their main battle sequence.

"Whoa, be careful! That's an expensive prop!"
And this being a Tom Cruise film, he obviously found an excuse to ditch the suit and run away from a falling helicopter, using nothing but his own two legs:
Warner Bros.
Worst job in Hollywood: piloting an aircraft in a Tom Cruise movie.
If they were seriously looking to rename the film, we're kind of surprised they didn't just go with Tom Cruise Almost Dies, especially considering that Cruise seriously almost died -- not in an explosion or something equally badass, but when his co-star Emily Blunt accidentally drove a car into a fucking tree while making a sharp turn with both actors inside -- because using stunt people is for hacks, even when the audience can't tell the difference.
Warner Bros.
Cruise wanted to remove the car floor and do this The Flintstones-style, but they said no.