We've spent many long, lonely hours studying human sexuality in our lives: in magazines, DVDs and sometimes the lingerie section of the Sears catalog and it's taught us much. However, as a public service, we felt like expanding the porn-saturated knowledge of the internet community with some sex-related weirdness that doesn't apply to humans for a change.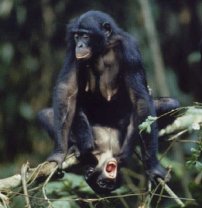 The Bonobo Monkeys are very possibly the culmination of anyone who believes in reincarnation's hopes and dreams. Sex for a Bonobo is not unlike a smile for a human. Or a handshake, a wink or clearing your throat. Sex is used as a greeting, as a method of conflict resolution and to celebrate when food has been found.
They are the only species that's been observed having sex face to face besides humans, as well as enjoying a little bit of French kissing and oral sex. They also engage in the occasional same-sex wank job and lesbian adventure--even incest. If sex can't fix it, these monkeys don't want to hear about it.
These slugs have a few issues in life, not the least of which is that they look like the end result of stomach cramps brought on by a diet high in lentils and curry.
Another problem for the lowly slug is that the average eight-inch slug has an eight-inch penis, and when he first realizes this, he's probably pretty stoked. Then when he hears through the grapevine that his mate could potentially chew it off, the wind may be taken from his sails.
Because their penis could be the same size as their body, they need to find a mate who's the same size. If they happen to have an issue with depth perception, they won't properly fit and their special friend will gnaw on it like a NASCAR fan with a stick of jerky to solve the problem. The record holder for banana slugs had a penis five times the length of its own body, which we assume he just wrapped around his head to pretend it was a cool pompadour and sideburns when not in use.