Sometimes a form of entertainment can become so bad that it transcends badness and becomes something new and wonderful. The world of newspaper comic strips is a gold mine for this, where strips that were built on a shaky premise to begin with run for decades after the writers and artists have long gone insane.
These are the best for providing hours of unintentional enjoyment.
Mark Trail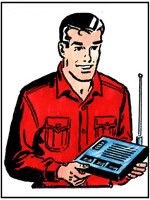 Intended Appeal:
Learning about wildlife and following the adventures of a rugged environmentalist.
Actual Appeal:
Comically nonsensical plots, misplaced speech balloons.
Ever since 1946, Mark Trail has been on the funny pages teaching respect for nature, mostly by battling evil companies that want to bulldoze ducks. The artists (Ed Dodd and then Jack Elrod) have both been firm in their priority of nature education first, and other less important things, like making sense, are pushed out of the way as necessary to meet that goal.
Elrod enjoys drawing animals so much that he never really learned to draw human beings, which is somewhat of a problem, since the comic stars several of them (although this illustration of what one assumes to be a hyperencephalic child with a tiny malformed hand seems to be OK).
He cleverly tackles the problem by shifting perspective to large foreground animals at every opportunity. Unfortunately, he either has serious problems with speech balloon placement, or the transmutation of souls is a commonplace occurrence in the Mark Trail universe. We have these conspiring moose:
This reluctant farewell from a squirrel:
This uninvited exposition from a duck:
And, this fish's inexplicable anger toward financial transactions:
Gil Thorp
Intended Appeal:
A hip take on high school sports.
Actual Appeal:
Terrible art, theorizing about the nature of the time warp the writer lives in.
Gil Thorp has its finger on the pulse of modern teenage life, bringing us the latest slang from today's youth.
It's the mentions of "IM" and "hip-hop" that shake you out of the casual acceptance until now that this strip is set in the '50s. A better theory for the background of this strip is that a cataclysmic event, such as a secret H-bomb test during the '50s, somehow split the universe into two divergent timelines, with our universe continuing on to the way it is today. Meanwhile, another parallel universe developed into the Gil Thorp world, where irony and postmodernism as we know it never happened, and "That ain't just a bun. It's the whole pan!" is still considered pretty slick and happening.
This theory of an unstable universe built on a space-time anomaly gains credence with the occasional appearance of a wormhole, such as the one in this fellow's face, sucking his unfortunate assailant's fist into another dimension.
Also puzzling is the fact that Gil Thorp appears to be fairly conservative and family-friendly, yet many of the characters appear to be drag queens.
However, this is all made up for by this strip's finest feature, gratuitous crotch shots.