Trucks! Specifically, an armored truck being towed by the new character Rhino, who just happens to be a wayward science experiment from the comics -- not unlike Sandman, who pretty much did the exact same thing back in 2007.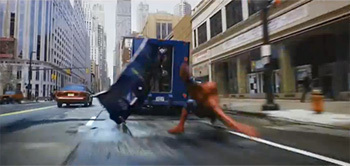 Columbia Pictures
And this part was just a ripoff of Estelle Getty's brilliant stunt work in 1992's Stop! Or My Mom Will Shoot.
Now all we need is for one of these things to transform, and we can have our giant imposing villain and armored vehicle beatdown that these films so desperately want to include for some reason.
Columbia Pictures
Never mind.