Experts call it "John Wick morality" (or at least they should), named after the film series in which Keanu Reeves' dog is killed by Russian mobsters, and in response he shoots 738 of them in the head. You wouldn't think any real person considers that a reasonable moral code to live their life by, until you look at the comments under any article about a police shooting and see ...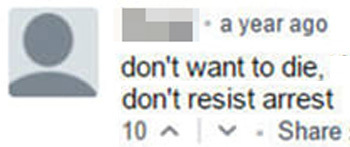 YouTube
... or see entire comment sections full of people rooting for a guy who shot a car thief to death. The logic almost makes sense if you squint -- if the victim hadn't resisted (or suddenly moved their hands, or smoked weed, or failed to signal, or illegally crossed the border), they'd still be alive, therefore they have no one to blame but themselves.
That "no one to blame" phrasing is key. It implies that once someone breaks a rule, you can do whatever you want to them and you cannot be blamed. Listen for it, and you'll hear somebody using this reasoning once a day, even if it's just over stupid shit. Do you have some poor bastard in your social circle who's gotten stuck with a demeaning nickname based on something they did when they were 13? If you want a famous example, try to find a single discussion about Richard Gere, anywhere, that doesn't bring up the urban legend about him shoving a gerbil up his ass (a rumor that got started during the freaking Reagan administration).
Mireille Ampilhac/Wiki Commons