All the corn dog orgies in the world can't fill the hole in my heart.
And now a new season of TV is beginning. Game of Thrones is still some months away, so there's still time, isn't there? Sure there is! Maybe they'd all gone on vacation for a bit to roll around in pits filled with money and awards and naked extras from the show. Oh God, the naked extras. Just one more reason to want to be a part of Westeros. Do you know how many naked extras there are at Cracked? There's Adam Brown if you get to the office before 8 a.m., and that's it.
Game of Thrones is my abusive partner who nurtures and comforts me, who makes me laugh and cry and then fucks me with brutal indifference and painful neglect for the better part of a year while it's off having fun and doing Comic-Con and other such things while I sit at home making Hamburger Helper for one and sleeping on a thin foam mattress dampened by my own tears and other depressed fluids. Well, no more!
I've asked nicely for several years in a row and haven't even gotten a polite decline, just the cold, hard shoulder of being ignored. But you know what? The Walking Dead is starting soon too, and that show has a metric fuckton of room for extras. The entire human population is just wandering around aimlessly all the time. And that Carl is becoming quite the uppity little shit, so maybe I don't need to put Joffrey in his place. Plus Rick is nuttier than a squirrel pooping on a fruitcake, so maybe I don't need to worry about Thoros of Myr or that crazy lady who breastfeeds her pussy little 13-year-old son. Maybe I'll just drop AMC a line. Maybe I can become a zombie.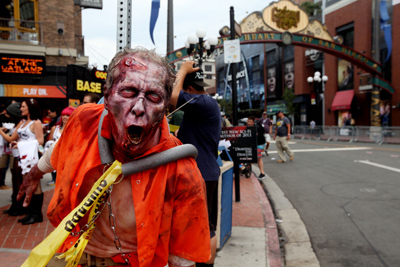 Sandy Huffaker/Getty Images News/Getty Images
"Lori already died? Dammit, I really wanted to off her."
I love you, Game of Thrones and HBO. But I don't know if I can be in love with you. Not anymore.