Look, the road to creative brilliance is a bumpy one. You're going to misstep a few times. Watching the movies from the ends and meeting in the center was my first mistake -- probably the first of many. I have to accept this failure, move on, and hope that I'll strike gold on the next attempt.
Beginning with Phantom Menace and following it with Return Of The Jedi is like reading the first chapter of a book, then jumping to the final page. I didn't need to watch the movies in the middle. The little blond kid grows up to become a rotting melon in a tricked-out HAZMAT suit. End of story.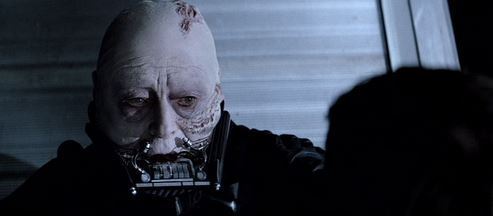 Lucasfilm
"I had the mask fitted with a harmonica so I can jam whenever I want."
At some point while watching the movies in this order, I had a thought: Was there a sexist element to the Empire pre-The Force Awakens? The Empire is, from top to bottom, nothing but men in every single position, as far as we're told in the movies.* There isn't a woman among them. Meanwhile, two of the Rebellion's most important figures are women: Leia and Mon Mothma.
Lucasfilm
Mon Mothma is the one who gave off that sexy nun vibe.
The Empire read your college thesis about military enrollment acting as the ultimate expression of feminism, and it wiped its ass with it. "Fuck them hoes. Their periods give them space madness," thought the Emperor, while looking at his powdery shriveled cock that hadn't been ridden in decades.
To be honest, I couldn't make it through this viewing order. It's so scattered and stupid. It's a waste of time. Do not attempt it. Let's just forget about it and move on. I apologize for wasting your time with this entry, and I promise to not get distracted with side thoughts again.
*The Expanded Universe changes the "no women" thing, but let's focus on the slice of Star Wars an overwhelming majority of people will always be more familiar with.