There was a whole team, in fact, led by Bungie veteran Joe Staten. They'd spent years carefully crafting an entirely new world, complete with its own lore and mythology, then built a tale to introduce us all to that place -- one with a satisfying arc, yet still leaving some key territory intriguingly unexplored. Just before launch, the time came to show the brass what all their effort had wrought, so the writing team mocked up a quick video to give the higher-ups the gist. And the higher-ups fucking hated it. But they didn't send the writers back to address these concerns, or even hire a whole new team. The brass, for possibly the first time in history, decided they should do the work themselves.
Yes, all of it. From a source on the team:
"The writing team Joe put together was ostracized. The story was written without writers."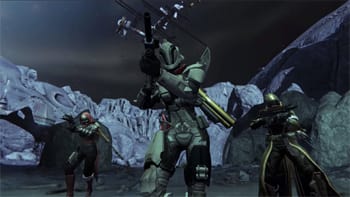 Bungie
And who needs them in a story?
The brass set about creating their whole new story, but they didn't have the time, or money, or desire to do it the right way, so they slapped it all together exclusively from existing resources. And again, remember: This is all being done weeks before launch. Staten and team spent years writing the original version; the Bad News Bears of game design gave themselves two weeks to Frankenstein a new one together out of the screaming pieces of the old one.
"The priority was, 'Hey, we have to take a bunch of content that we've spent millions of dollars on, we need to cobble it together in a way that is not going to break continuity, and we've gotta do it quickly.'"
Needless to say, basically everybody hated this new story. Even avid Destiny players couldn't defend it. They liked the game in spite of itself, because they could just "feel" something else was going on. And, in fact, if you venture far, far beyond the bounds of Destiny -- literally leaving the game itself behind, turning off the console, going to your computer, jumping on the internet, and carefully navigating a cramped and confusing archive on Bungie's website -- you'll find the lore files. Countless pages of text, most of it left over from Staten and his writing team. That's where Bungie inexplicably stowed the rich, sprawling world they'd made.
And this isn't like regular game lore, in which you'd find a recording, or a book, or something that expands and adds some flavor to an already existing world. Regular game lore is never absolutely vital to the story itself, much less containing the entirety of said story, as with Destiny. But if you have the mentality for it, if you have the time for it, and if you're a bit of a masochist, you can cobble together a pretty amazing narrative from this wreck.
It's just that you have to do so very much work: First, you must collect the "grimoire" cards (none of the original story is in the game, true, but it's still kind of around the game. For some reason, Bungie gated their entire world behind a massive set of arbitrary accomplishments). You do this by finding guns that only drop randomly, killing a certain amount of enemies, earning some obscure achievement, beating the highest endgame content, etc. -- each of those tasks unlocks a little bit of story. Just a paragraph or two, sometimes less.