If you're interested in the machinations of AAA gaming, or just a fan of very stupid decisions and the "logic" of the fist-chewers that make them, you should check out this exhaustive article on the behind-the-scenes of Destiny's development. I'm just going to hit on a few of its main points real quick:
Back in the early development days, Destiny did actually have writers. I know, I know: It sounds too crazy to be true, but the plot of the game was not entirely cribbed from the ramblings of an idiot trying to explain Star Wars to other, greater idiots.
There was a whole team, in fact, led by Bungie veteran Joe Staten. They'd spent years carefully crafting an entirely new world, complete with its own lore and mythology, then built a tale to introduce us all to that place -- one with a satisfying arc, yet still leaving some key territory intriguingly unexplored. Just before launch, the time came to show the brass what all their effort had wrought, so the writing team mocked up a quick video to give the higher-ups the gist. And the higher-ups f*****g hated it. But they didn't send the writers back to address these concerns, or even hire a whole new team. The brass, for possibly the first time in history, decided they should do the work themselves.
Yes, all of it. From a source on the team:
"The writing team Joe put together was ostracized. The story was written without writers."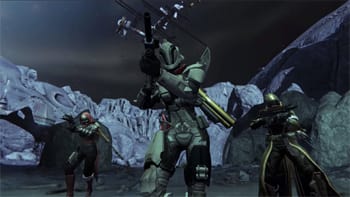 Bungie
And who needs them in a story?