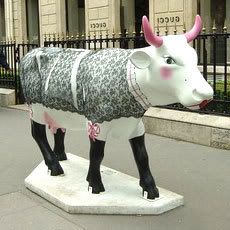 Do you love meat? No, I mean
really
love meat? Well, if you're in Tokyo and have some discretionary Yen burning a hole in your pocket, there's a specialty restaurant which can help you express that love in
ways you never dreamed possible
:
[Tokyo's] bestiality restaurant is being regarded by its nouveau riche patronage ... as a decadent practice only possible among the wealthy. [One patron] says she visited the restaurant after being invited there by a well-heeled lawyer... Once the customer feels prepared, they will be presented with the beast of their choice. In the lawyer's case, it was a sow. "I'd been told what to expect, but when I actually saw what was happening, it was as shocking as you'd imagine it to be," she said. Once the lawyer had finished porking the pig, the couple returned to the first floor and sat at a table to dine... she was totally shocked when staff members carried in roast pork--made of the same sow the lawyer had earlier been with.
I have several competing reactions to this story:
It's a logical progression, really, from eating raw fish (which is now a mainstream American favorite) to the Russian roulette-like deadly Fugu (which made it all the way to The Simpsons), to live octopus (which fights back on its way down), to this current horrific perversion. And it's only fitting, I suppose, that it comes from the nation that brought us such kinky innovations as panty vending-machines, tentacle porn, and the Bataan Death March.