What They Made Up:
Actually, unlike Hannibal Lecter, the genius behind bars in the Indian version isn't a cannibal, probably because the Hindi language doesn't have any names that rhyme with the word for "someone who eats people." Also, he was unjustly incarcerated. Oh, and one more little detail: While the agent is creeped out by him when they meet and he's kind of a jerk to her at first, slowly they start falling in love. At one point "Hannibal Lecter" fantasizes about running in the snow to meet "Agent Starling" and smelling her arm.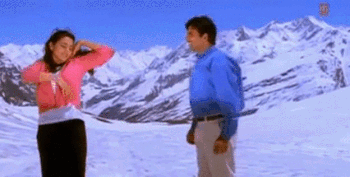 Vishesh Films
Nope, this looks nothing like a cannibal.
The agent also dreams about meeting "Lecter" in a dark, romantic parking lot and making out with him -- all of this while her boyfriend sings to her through the phone (or at least I think it's her boyfriend; maybe it's the Dr. Chilton character?).
The Craziest Part:
The following clip is NSFW due to undiluted batshit insanity (and loud screaming):
That's right, this goes from thriller to romantic movie and then from romantic movie to some sort of Jodorowsky-esque nightmare. It turns out that the serial killer they were looking for planned to sacrifice a kid on a Temple of Doom-style altar in order to be granted immortal powers from an eclipse. The good guys stop him (by impaling him through the gut), but "Lecter" gets hurt and dies in the agent's arms after a tender kiss.
The movie ends with the agent getting a medal for her bravery and thinking about "Lecter." How do I know she's thinking of him, you ask?
Vishesh Films

Vishesh Films