What They Stole From Hollywood:
Sangharsh (1999) is about a young female FBI -- I'm sorry, CBI agent who has to track down a crazy dress-wearing serial killer with the help of an incarcerated genius. Yep, it's The Silence of the Lambs (1991) with Indian actors.
Vishesh Films, Orion Pictures
So he's more into dark meat, I guess?
What They Made Up:
Actually, unlike Hannibal Lecter, the genius behind bars in the Indian version isn't a cannibal, probably because the Hindi language doesn't have any names that rhyme with the word for "someone who eats people." Also, he was unjustly incarcerated. Oh, and one more little detail: While the agent is creeped out by him when they meet and he's kind of a jerk to her at first, slowly they start falling in love. At one point "Hannibal Lecter" fantasizes about running in the snow to meet "Agent Starling" and smelling her arm.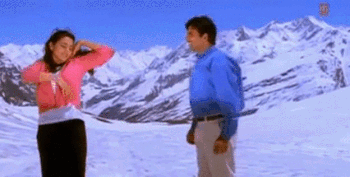 Vishesh Films
Nope, this looks nothing like a cannibal.