If we're all adults here, and we've all participated in a game of X-rated apple bobbing, then we've tasted the juices of another, and that shit is not from Minute Maid. And this isn't even to say oral sex is gross -- not at all. This has nothing to do with rug munchery or wang polishing, two delightful pastimes we should all be happy to partake of. It's the deception, the grandiose lie we think we can pull off on another human being, like we're selling a car after tampering with the odometer. We all know what's supposed to happen, so don't shit in my boot and tell me it's a comfort insole. I don't care if you're Scarlett Johansson or the Queen of England; your gobbledygooker is going to taste a certain, perfectly acceptable way, but it ain't Skittles. Likewise, I'm not busting out a Jamba Juicery, but dammit, we know that. We all know that!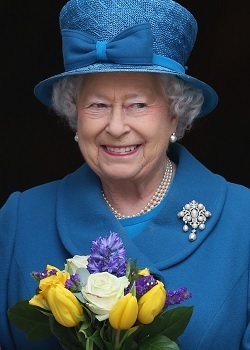 Chris Jackson/Getty Images Entertainment/Getty Images

You are now picturing the Queen's gobbledygooker.
You lying about what you taste like is like telling people you have the Mona Lisa at home. It's literally knuckles-in-poop stupid and no one with any sense is buying it, so stop selling. You want to spice up dirty talk and entice someone, then tell them your magic clam predicts lotto numbers or something. It's about as confusing, but at least it requires more time to puzzle out than some fly-by-night line about Fruit by the Foot.
General Mills
"There's nothing artificial about my flavoring, baby."