For example, Lauper's music videos are cast almost exclusively with professional wrestlers, despite the fact that the film does not feature any professional wrestlers, nor is professional wrestling a major plot point (in fact, at no point in The Goonies is professional wrestling even mentioned). It's like she stared really hard at the poster for two hours instead of actually sitting through the movie, and wrote a completely different narrative in her mind, wherein she and Captain Lou Albano have to track down a booby-trapped cache of pirate treasure in order to save their gas station -- which, as the video firmly establishes, is in the middle of a desperately unsuccessful bake sale.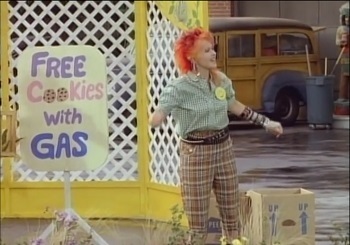 Portrait/Warner Bros./Amblin Entertainment
In fairness, "free cookies with gas" can be catastrophically misconstrued.
Roddy Piper, Classy Freddie Blassie, and the Iron Sheik pull up in a limousine for the explicit purpose of refusing to patronize the Lauper family business.
Portrait/Warner Bros./Amblin Entertainment