As an American child of the '80s and early-'90s -- a period so culturally rich that its aftershocks are still being felt today to the chagrin of a lot of people on both sides -- I was tongue-kissed by the angels along with a little over-the-pants action and given access to the finest technological advances in history and also pogs. Because of this, my battlefield existed in two dimensions on a Nintendo Entertainment System where no blood was shed but many scars were left. By Captain Skyhawk. By Battletoads. By Punch-Out.
Back then, I spent hours and days trying to best those games, but I never could, and I often quit a session quickly out of frustration. A not uncommon trait, but one that I suppose I should push past if I'm going to be replaced by this better version of myself in the near future.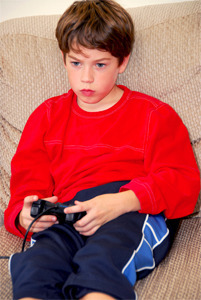 Elena Elisseeva/Hemera/Getty Images
Ever-haunting disappointment be damned.
It seems like a worthy endeavor, a good way to discover my malfunctions, and not at all something that would act as one last fun and worthless day-waster. No, sir; Peter Pan is dead. This is a research mission. So I put on my lab goggles, blew into the cartridge, and fired up my first game ...