Have you ever looked at your dog and thought, "You know what's missing? A big pair of shapely boobs!" This Marilyn Monroe costume has you covered. Give your dog the ample cleavage you've always dreamed of. The iconic low-cut dress is both elegant and flirty, with a plunging neckline that leaves very little to the imagination, except perhaps to wonder if the dog's real nipples are also sporting bodacious silicone implants under that dress. Your dog will feel confident and sexy in locks of blonde flowing hair and perfectly symmetrical double-D's. The hair comes with the outfit, too, so you don't need to borrow from your ever-growing secret collection of women's scalps. You can make this a great couples' costume, too! Your dog dressed as Marilyn, and you dressed in the human teeth and skin you've collected over the years. You'll be the belles of the ball!
The "Doctor Gregory Meows" Cat Medical Costume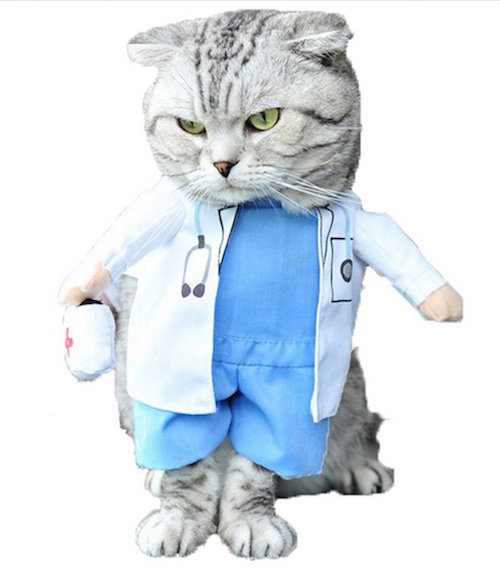 If you want to have some wholesome fun with your cat, dress him up as a medical professional! You see, cats have a very difficult time distinguishing reality from fiction, and a costume is just enough to push them into the realm of delusion. This cat doesn't think he's dressed as a doctor. He is a doctor, and there are lives that need saving, and yet his entire staff is missing. Have fun watching your cat roam around in an anxious frenzy, meowing out, "Nurse? Nurse where are you? I have four surgeries this afternoon! Where are my orderlies? Where are my attendings?? People are dying! I have a six-year-old girl who needs her entire ribcage replaced! Why can't I pick up my stethoscope? It ... it appears to merely be printed onto my lab coat?! And my first aid kit is filled with stuffing? I can't practice medicine like this! Goddammit, I'm a doctor, not a miracle worker!" To add insult to injury, boop your kitty's cute little nose while cooing, "Aww, is somebody's patient not feline fine?" Then watch as he cries helplessly over the loss of lives that only he could have saved.