Curing cancer is the Holy Grail of modern medicine, and by that we mean researchers will try anything to get it. Anything.
So what happens when all of the top medical scientists focus their brain power and research cash on a single crusade? You get some of the most mind-blowing and downright bizarre tumor-killing methods imaginable. Like:
Amazing fact number one: A man was strapped to a bed in France, had a three millimeter hole drilled in his head and laser beams were fired into his brain while he was still conscious. Amazing fact number two: he was not James Bond.
Surgeons at Pitie-Salpetriere have clearly decided that months of medication and treatments are for wimps, and have gone all Buck Rogers on tumors instead.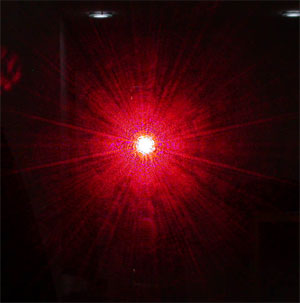 This super-cool laser (literally - the laser fiber optics are chilled so that they don't trigger fits, blood clots or set fire to your living brain) has now been stalled because the developers lack the three million dollars in funding needed to continue to the next stage, which, we assume, would involve striking a patient's heart with lightning, or pouring magic down his throat.
6 (tie) Blowing Up Gold
Apparently, there are some places you can't just administer direct laser death (though, since the previous guys proved that the brain isn't off limits, we can't imagine where that could be). And if you can't shove a precise fiber optic in there, lasers tend to effect you less like a patient and more like an Imperial Stormtrooper (complete with the implied falling down and death).
Unless you've been injected with gold.

Impervious to lasers and cancer.
In another plot clearly lifted from members off of MI6's Most-Wanted list, scientists at MIT have worked out that if you inject tiny gold rods into tumors you can blow them away. The micro-jewellery strongly absorbs infrared laser beams, which can be passed through the body and focused on the maBLINGnant growth. At which point all the things movies have taught you about lasers and flesh become true.