Ah love, it can be a beautiful, inspiring and, in some cases, kind of sickening thing. Unlike the candlelit world of romantic comedies, real life relationships often involve ball gags and people with more than one set of genitals.
Here are some of the couples that prove that love has no boundaries, even though we're starting to wish it did.
Nero Falls for a Boy, Turns Him into a Woman
Ancient Christian scholars believed that Nero was the physical incarnation of the Antichrist himself, so it's not surprising that he had a rather unconventional sex life. Dwarves, animals and his own mom have all said to have been in on the act. Of course this is hard to verify and may just be the ancient equivalent of slash fiction (once a guy is literally declared the devil, the gossip really gets going).
But we do know his relationship with a slave named Sporus was very real. Horrifyingly real.
Sporus was an underage boy who Nero fell madly in love with and, since he was a Roman and not Greek Emperor, this was actually not cool with anyone. Nero was a problem-solver though and did the only sensible thing: he had Sporus castrated and turned into a woman.
He put a full dress and veil on Sporus and married him with all the pomp and circumstance you'd expect (we can only imagine how many people in the wedding party were put to death when it came time to ask if anyone objected to the union).
Nero nicknamed Sporus "Sabina" which in a charming twist was also the name of his 2nd wife who died after Nero kicked her in the stomach when she was pregnant. Nero paraded Sporus around town dressed as an empress, making out amorously and even putting on simulated sex shows with the kid.
So the next time you find yourself embarrassed by your president, this may help keep things in perspective.
The "Siamese Twins" and the Yates Sisters Get it On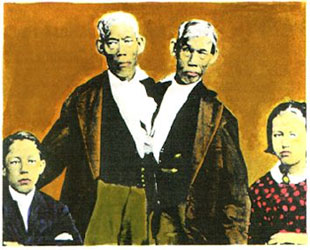 The basis for the term "Siamese twins," Chang and Eng Bunker were born in, you guessed it, Siam in 1811. The Bunkers (The Bunker?) were two of the 19th century's biggest celebrities by virtue of having been born stuck together at the chest.
They eventually moved to America and began looking for love. You can see the difficulties here right away, since they're sort of sharing the same body. Do they both share one woman? If not, where the hell do you find a girl who will have sex with you while your brother lies just inches away, presumably staring at her boobs?
The answer is, of course, you marry a set of very open-minded sisters. Thus Chang and Eng Bunker married Adelaide and Sarah Yates, to which their fellow North Carolinians reacted with the kind of open-minded tolerance that remains that state's trademark to this day.

Chang and Eng Bunker and their vivacious spouses.
You may think we're intentionally playing up the Siamese twin sex angle and you may be telling yourself that in reality, the twins probably couldn't function sexually due to their condition anyway. And, you'd be way, way wrong. Eng fathered 11 children with his wife, Chang had 10 (in your face Chang).
Despite the closeness that you'd think kinky conjoined sex would bring to a family, the Yates sisters eventually had a falling out. This necessitated two separate houses be built.
In a scenario out of a sitcom written by David Lynch, the twins would alternate houses, with the "guest" brother having to do everything the "host" brother said. Eventually the brothers themselves started feuding. Chang even threatened Eng with a knife at one point which not only goes to show that Chang was kind of retarded, but that even sharing essential organs won't keep two people from acting like complete cocks to one another.