We're always looking to improve our lives, particularly if it doesn't require all sorts of, you know, effort.
Luckily there are a whole bunch of books that promise they can turn our whole operation around, for the 15 bucks or so it takes to buy a copy. We're not sure which one of those actually has all the answers, but we're pretty sure which ones don't:
Shut Up, Stop Whining, and Get a Life: A Kick-Butt Approach to a Better Life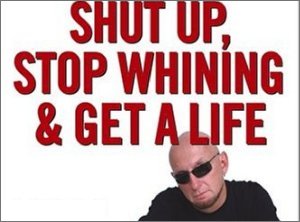 Larry seems to have studied psychology, as well as fashion, under The Shield's Vic Mackey. Every problem can be solved by sunglasses, a sneer and being manly.
It's probably awesome for beating confessions out of suspects, but not so helpful for working through a life crisis. If installing a killer 'tude were as easy as the book's suggestion of "Fuck this, I'm going to Burger King," then we would all have real jobs instead of writing on the internet.
We have a feeling this guy comes from the Republican school of thought, where all these lazy minorities and hippies just need to pull themselves up from their bootstraps, stop whining and get a life! Man, how easy was that!
If You Take Their Advice ...
Some kid's whining because he has leukemia? Fuck you Billy, get a job!
Wife complaining of her boss groping her ass at work? Stop dressing like such a whore, Alice!
Cops upset about you shooting up a class of 5th graders? Eat lead, coppers ... I do things my own way, thanks to the "direct, caustic, and sometimes controversial" advice given in Shut Up, Stop Whining, and Get a Life!
The Lightworker's Way: Awakening Your Spiritual Power to Know and Heal
At the extreme opposite end of the spectrum from Shut Up, Stop Whining ... we get The Lightworker's Way, by the obviously fake-named Doreen Virtue.
So how do you become a "lightworker?" The website says:
"This is a chosen title, and is bestowed to all those requesting to carry it. It reflects a willingness to consciously carry light to planet Earth and this attitude is the only prerequisite. As you know we are reluctant to use titles of any kind. We find humor in the fact that humans place so much importance in titles. We see that oftentimes humans accept messages of questionable integrity because of an elaborate title attached to it."
"Humans?" We have serious doubts about getting behind anybody who refers to their own species in the 3rd person.
These are people who believe that "we are spirits playing a game in a human body and as such we have difficulty re-membering who we are and why we are here." Wait a second! These are hippies!
If You Take Their Advice ...
If you decide that life is in fact just an elaborate game, you'd probably forget the self-help books altogether and spend more time on "re-membering" how to score with hippie chicks who smell like Nag Champa.
You will also transcend the earthly fettered boundaries of style and good taste, finding your inner spiritual guru, who makes websites that look like this: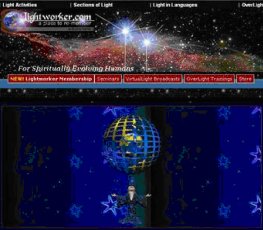 And furthermore, you will learn to overcome and transcend every strangulation of your personal chakra; such as suffering, pain, employment and responsibility.