The 5 Most Badass Presidents of All-Time
As we all prepare to spend a long weekend enjoying Presidential Savings on mattresses and used Toyotas, we could take time to thank some of the presidents who passed bills that protect some of the freedoms your enjoy daily. Or we could spend the day celebrating the presidents who are decidedly more Action Movie Heroes than diplomats.
Anyway, guess which kind of president this website decided to focus on?
#5. Andrew Jackson
When the 1828 election rolled around, a lot of people were terrified when they heard Andrew "Old Hickory" Jackson was running. If you're wondering how a guy we're calling a bad ass got such a lame nickname, it's because he used to carry a hickory cane around and beat people senseless with it, and if you're wondering why he did that, it's because he was a fucking lunatic.
Former Democratic Senator and Secretary of the Treasurey Albert Gallatin feared a Jackson presidency because of his "habitual disregard of laws and constitutional provisions." Or in other words, the man was a loose canon--17th Century Washigton's answer to Martin Riggs. Sure, he probably didn't have an irate black lieutenant to answer to, or a weary partner who was too old for this shit, but he most certainly had a death wish.
How do we know? Well, despite everyone's best efforts, Jackson was elected to the top office, and when he wasn't busy shaping the Presidency as we know it today, you could find him out back dueling. In case you haven't been to the 18th century lately, this unmanly sounding activity actually involves standing across from an armed man and shooting at him while he in turn shoots at you. The number of duels that Jackson took part in varies depending on what source you consult; some say 13, while others rank the number somewhere in the 100's, both of which are entirely too many times for a reasonable human being to stand in front of someone who is trying to kill them with a loaded gun.
On one occasion, he challenged a man named Charles Dickinson to a duel, (the reason behind it wasn't important, not to us and certainly not to Jackson), and Jackson was even kind enough to give Dickinson the first shot. We're gonna go ahead and repeat that: In a duel with pistols, Jackson politely volunteers to be shot at first. Dickinson happily obliged and shot Jackson, who proceeded to shake it off like it was a bee sting. When Jackson returned the favor, Dickinson was not so lucky, and that's why his face isn't on the twenty. The bullet, by the by, remained in Jackson's body for 19 years because, we assume, Jackson knew that time spent removing the bullets would just fall under the general category of "time not dueling," Jackson's least favorite category.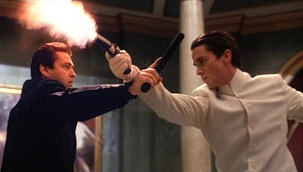 Andrew Jackson may have been the first master of Gun Kata
Greatest Display of Badassedry:
Andrew Jackson was the first president on whom an assassination attempt was made. A man named Richard Lawrence approached Jackson with two pistols both of which, for some reason, misfired. With the possibility of an assassination taken off the table, Jackson proceeded to beat Lawrence near death with his cane until Jackson's aides pulled him off the assassin.
The guns were inspected afterward and it was discovered that they were in perfect working order, leading some historians to believe that it was an odds-defying "miracle" that Jackson survived, while we're pretty sure that the bullets, like everyone else, were simply scared of Jackson.
Most Badass Quote:
"I have only two regrets: I didn't shoot Henry Clay and I didn't hang John C. Calhoun."
That's right. In a life rich with murdering people for little-to-no reason, Jackson's only regret was that he didn't kill quite enough people. People like Calhoun who, it should be noted, was Jackson's vice president.