8 Celebrities You Didn't Know Were Geeks
#4. Vin Diesel
Neither Vin nor Diesel is his real name (it's Mark Vincent), but it was a given that creatures like this do not have names so much as titles. He's lately known more for the movie The Pacifier (original working name, Oh My God, what am I watching? Oh, right, poop.), and not known, thankfully, for his "comedic" turn in Find Me Guilty. But, one can hardly mention Vin Diesel's name without remembering severed carotid's and snapped necks.
Multifacial, a movie he produced for $3,000 (and which, surprisingly, is not porn) gained the attention of Steven Spielberg, who cast him in Saving Private Ryan. This started off Vin Diesel's film career in a long string of roles being surly, growling one-liners, looking intimidating without even trying, and racking up a body count (huge) and number of Oscars (zero) to rival Arnold Schwarzenegger in his prime.
And, the whole time, he was playing Dungeons and Dragons. Has been for over 20 years. Seriously, somewhere on his body is a tattoo of his player character's name. Now, that's hardcore gamester.
His geek flag flew higher when he opened up his own gaming development house, Tigon Studios, just because he was tired of people making crappy games based on movies. The very fabric of existence was rent asunder when, to the shocked and frightened gasps of a reviewing public, it turned out The Chronicles of Riddick: Escape from Butcher Bay, the first video game based on a movie since Goldeneye was not just better than the movie, but better than just about every other game that came out that year. It's average review score was 90 percent, according to MetaCritic.
#3. Porn star Asia Carrera
Retired porn star Asia Carrera, real name Jessica Steinhauser, is a bit of a legend in the porn industry. With 36-26-36 measurements, she performed in a jaw-dropping 400 hundred films in her career and exchanged an unthinkable amount of bodily fluids. She's also mother of two.
She calls herself "the nerd of porn," and we assumed it was some kind of in-joke, until we saw her credentials. Here is somebody who studied piano as a child and by the age of 14 was playing in Carnegie Hall.
At 16, she went to Japan and taught English classes. She was a state spelling champ, in the National Mathematics League, a Spanish National Honor Society member, placing in National Geography, Language and Math Olympiads, and is a member of Mensa. That got her a free ride to Rutgers, where she double-majored in business and Japanese. This naturally inspired her to change her first name to Asia and become an entrepreneur in America's fastest growing business.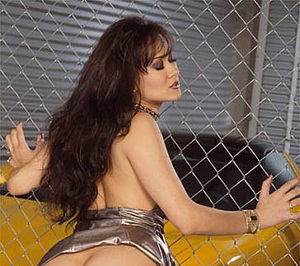 Either that, or her self-professed hatred of her parents' pressure on her to succeed academically made her lash out by riding random guys reverse cowgirl on camera. Whatever works.
When she and her brother get in the room together, she admits a tendency to "geek out," and would rather volley IMs back and forth than hold an actual conversation. The sex lives of some of our staff members are, to be honest, quite similar, so we can relate. Her geek hallmark, however, is her love of LAN parties and Unreal Tournament (handle: megab*tchgoddess).
Now that she's no longer taking shots to the face while sprawled out on pool tables, you can expect her to dish it just as hard and fast online. Keep an eye out for her self-made skins, or download them yourself:
#2. Queen guitarist Brian May
In case your musical knowledge doesn't pre-date the '90s, Brian May played lead guitar, wrote for and was the sometimes lead singer of Queen. He put the words "We Will Rock You" (surprisingly), "Who Wants to Live Forever" (ironically), and "Fat-Bottomed Girls" (not so surprisingly) in Freddie Mercury's mouth. Sometimes Freddie shrugged and said, "Ah, bloody 'ell, I broke my last bottle of Goldschlager with 'at 'igh C, so's 'ow about I shut my gob and let you 'ave a go at it?" and sang back up to him.
In the early '70s, he also had a Bachelor of Sciences degree with honors from the Imperial College of London and was in the middle of his doctorate studying how light reflects off of dust floating in space and the movement of that dust within the solar system. While we at Cracked are sure that Brian May's heart was pounding with excitement when he first signed up for the classes, we admit that you probably had to be there to give a rat's ass.
May also apparently grew tired of it, because at that point he took 30 years off from his doctorate to become a millionaire, one of the best guitar players in the world and a member of one of the greatest rock bands in history.
When he wasn't busy rocking faces, May fiddled around with astrophysics, co-authoring two scientific papers and the book Bang! - The Complete History of the Universe with Christ Lintott and Patrick Moore. He also has been a regular guest on the latter's show The Sky at Night for years). Finally, after he was satisfied that he had squeezed all the rocking he could into one lifetime, he went back and got his doctorate in the fall of '07.
Then, he was appointed Chancellor of Liverpool John Moores University, meaning we now have a man who can look upon both Albert Einstein and Eddie Van Halen and ask why they didn't get more done.
#1. Dolph Lundgren
Mr. Lundgren was an almost-superstar back in the '80s, having played comic hero The Punisher (1989 version) and even He-Man (1987). But, his greatest acting accomplishments is beating Apollo Creed into something resembling grape jelly and inspiring the greatest Rocky montage of all time.
As it turns out, this towering blond monster who casually told Sylvester Stallone, "I will break you," could have, in fact, probably calculated the amount of effort (in force pounds per square inch and Joules expenditure) needed to do just that in his head.
The man reportedly has an IQ of 160. He graduated from the Royal Institute of Technology in Sweden, got his master's in chemical engineering, then was awarded a Fulbright Scholarship to MIT. After just two weeks of that, his superhuman intellect allowed him to calculate that a life spent inventing life-saving chemicals would mathematically contain less awesome than one movie spent playing He-Man.
Hey, did we mention that he speaks five languages (French, Swedish, German, English and Italian)? Or, that he's a Pentathlon Team Leader and a former Ranger? And a third-degree black belt?
So, really, to play a superhuman machine of destruction in Rocky IV, he still had to tone it down quite a bit. Hell, this man had to tone it down to play He-Man.
If you liked this article, check out Celebrity Ripped Club: 8 Non-Athletes Who've Gotta Be On Steroids .