It's taken science years to advance robotics to the point where we're able to create tiny machines to do our voyeuristic bidding. And what's a better way to use this expensive technology than to engage in some good ole' fashioned skullduggery with unsuspecting wildlife?
4

Nature Documentary Baffles Lions, Then Become Friends
Nature photographer Michael Nichols was faced with the task of finding a way to accurately and closely monitor lions in their natural habitat, because photographing them close up and at ground level would likely end with him coiled in a pile of steamy destiny on Pride Rock. However, he and National Geographic came up with a perfect solution -- make a robot take the pictures for them.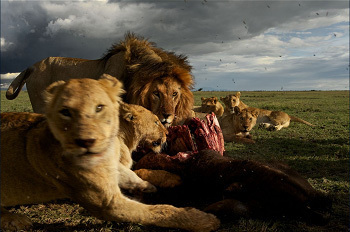 National Geographic
Nobody cares if a robot gets eaten. Robots have no souls.
So, in order to capture this incredible footage, they used flying drones and WALL-E robots that roll along the ground and confuse the shit out of the lions.
National Geographic
Notice all the lions staring up in a "What the screaming shit is that?" pose.