Dana eventually realizes that, like Laurie Strode, she is also secretly Michael's long-lost sister, because ... coming up with new ideas is hard, you guys. Similarly to The Curse Of Michael Myers, this movie would have explored the pagan origins of Myers' evil. But since this was the early '90s, we learn about it through virtual reality. With a little help from Tommy, Dana plugs in to a VR apparatus, which is pretty much magic. Tommy calls it a "high-tech Ouija board," and it essentially sends her back in time, in a way no Oculus Rift ever could.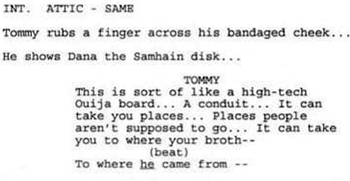 Phil RosenbergEnsuring that any sense of mystery that may have survived seeing Michael Meyers sleeping outside a bus station is completely eradicated.
According to one review, Michael was the "comic relief" of the script. He has some surprisingly wacky kills, like standing on a toilet to propel himself through a ceiling, or murdering a dude dressed like Jason using a beer bong.
Phil RosenbergIt sort of defeats the point of murdering partying teenagers if you deify them among every frat on the planet.
The climax features Michael being pushed into the grave of his dead (non-secret) sister, because it's a portal "into the otherworld." So ... maybe we all owe Rob Zombie an apology?