"Thanks for watching the movie. Hope ya' don't mind if we just talk about it for the last 10 minutes of it."
That's why I prefer Psycho II. It was directed by Richard Franklin, who made a really good Australian horror movie called Road Games, as well as a Fight Club prequel. After 22 years, Norman Bates is released from a mental institution, because the typical sentencing for "dressed as your mom and stabbed your whole zip code" is 22 years. Norman tries to make good, but he's constantly getting hints that seem to point in the direction of him still not being quite right. Sometimes, these hints come in the form of hearing voices, and sometimes they're slightly less subtle, and come in the form of bunches and bunches of corpses.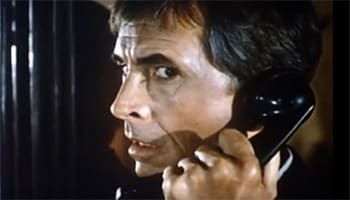 If he had just stayed in there for the full 23 years, none of this shit would've happened.
Psycho II doesn't try to make the same mistake Psycho did and piggyback a slasher movie onto a thriller. And it's all benefited by Anthony Perkins' (Norman Bates) performance. Usually, horror sequels take place only a few years later, so the killer still has that spring in his step. But in Psycho II, Norman is a grumpier, retired slasher who just wants his dang ol' mental demons to leave him alone, presumably so that he can watch his stories and suck on hard candies in peace. So we don't have to once again see what happens when a good-looking young person falls prey to the murderin' urges. Instead, we have "I'm gettin' too old for this shit" Norman, a character that's perfectly exemplified by his decision to forgo shower stalking and dress-up, and just start beating people with shovels.