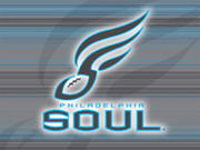 Philadelphia Soul
(Arena Football League)
Runners Up:
South Dakota School of Mines HardRockers (College)
Indianapolis NW Space Pioneers (High school)
Cleveland Rockers (WNBA, defuncT)
Swing of the Quad Cities (Minor League Baseball)
Breakdown:
"Soul" in this case doesn't refer to the eternal essence of self that many believe humans possess. Rather, it's a style of popular music in the 1970s known as Philadelphia Soul, making it highly relevant when this expansion team opened in 2004. This team was actually co-founded by Jon Bon Jovi, who is to soul what Arena football is to football.

Jon Bon Jovi, as relevant and hip as the team he co-owns.
The South Dakota School of Mines HardRockers and the defunct Cleveland Rockers of the WNBA do have legitimate connections for their wannabe-hip-sounding names. One is a pun on the school's mining focus; the other is located near the Rock and Roll Hall of Fame. However, they both end up reminding you of when a company tries to put forward a mascot with a backwards baseball cap, a skateboard and some kind of crazy-shaped electric guitar to appeal to "kids today."
The Indianapolis NW Space Pioneers, meanwhile, had the bad fortune to tie its name to the hot current event in the '60s, the space race, and have not mustered the energy to change it since.
Whoever renamed their team the "Swing of the Quad Cities" was obviously trying to go for something hip and fresh, but unfortunately swing is only hip and fresh to a demographic that is, for the most part, now dead.