The German word Schadenfreude refers to taking pleasure in another person's suffering. That is absolutely not what here for today. Instead, a more apt German word to invoke would be Feuermausefallegenitalien, which means a burning mousetrap has somehow attached itself to one's genitals. Because that's the sort of awful thing experienced by the people you're about to read about. 
1. Adolph Beck 
Beck spent five years in jail, misidentified as a thief. Finally, he was set free -- detectives learned Beck's lookalike was circumcised, while he was not. But then this lookalike, Wilhelm Meyer, stole again, Beck was again wrongly convicted, and he spent five more years in prison. 
2. Joseph Swain 
After a colostomy, Joseph Swain had surgery to reattach his colon. The doctors made a mistake and attached it to his bladder. The result: Joseph started farting then pooping out of his penis. 
3. The Pennsylvanian 
A woman was in a hospital in Pennsylvania, then a bullet entered the abdomen. Not from a shooter in the hospital. From some unknown origin an unknown distance away. 
4. Paul Trinder
Paul thought there was something strange about the passenger who British Airways had sat beside him on his London flight. It took a while to realize they had partnered him with a corpse. 
5. Jason and Jenny Cairns-Lawrence 
This couple happened to be in New York on 9/11. Then they were in London on 7/7, the biggest terrorist attack in that city's history. Then in Mumbai for 26/11, that city's biggest terrorist attack. (The couple were not responsible for any of the attacks.) 
6. Joao Maria de Souza
7. Aikichi Kobayama
In 1954, Aikichi and a couple dozen other fishermen went to sea aboard a boat called Lucky Dragon 5. It was not an accurate name. The boat got showered in radioactive coral from a hydrogen bomb the US tested. Everyone got sick, and Aikichi died. 
8. The Bra Syringe
For a while, Walmart customers kept finding syringes someone had been slipping into packs of clothes. Syringes turned up in socks, and one buyer found a syringe in the toes of footie pajamas, but worst may have been the woman who got stabbed by a syringe hidden in a bra. 
9. Bill Isles
Walking back to his car after buying a huge lottery ticket, Bill Isles noted he likely would not win, quipping, "I've got a better chance of getting struck by lightning." Well, guess what happened to him that night. 
10. Roy Sullivan 
No, you aren't likely to get struck by lightning. Yet Roy Sullivan got struck seven different times. 
11. Tsutomu Yamaguchi
Tsutomu thought he'd hit rock bottom, deaf and temporarily blind, when an atomic bomb struck the city he was visiting, Hiroshima. But then it was time to return home. To Nagasaki, in time for bomb two. He survived. Again.
12. Dog Lovin' Jane
This woman attempted to have sex with an acquaintance's German shepherd. She died; as it turned out, she had a severe dog allergy. 
13. Jim Creighton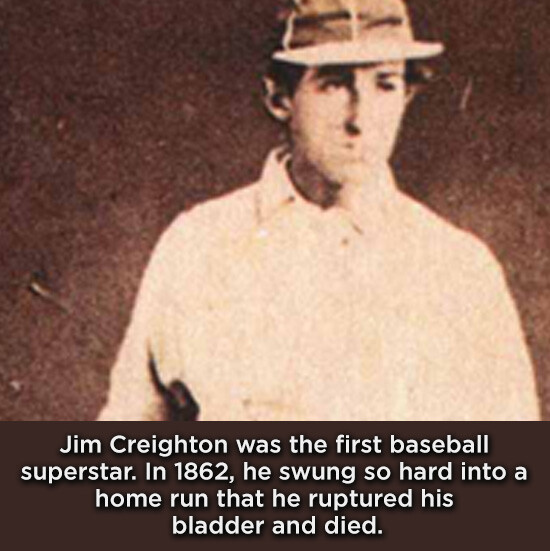 14. Robert Todd Lincoln
Robert was fortunate enough to know three presidents. His father, Abraham Lincoln, was assassinated, of course. James Garfield, under whom Robert was Secretary of War, was gunned down right before the two were to meet in New Jersey. William McKinley got assassinated while Robert was in the room. 
15. Juliet Prowse
Hollywood dancer Juliet Prowse was unfortunate enough to get mauled by a leopard named Sheila. Later, she was doubly unfortunate to get mauled again by the same leopard. 
16. Stephen Dennison 
Stephen Dennison spent 34 years in prison for stealing candy when he was 16. Just stealing it meant an automatic 10-year sentence back in 1925, but the errors that added another couple dozen years, well, those were just bad luck. 
17. Sigurd Eysteinsson