The experience starts with a training session, where participants are given Airsoft guns and taught the basics of survival and combat in the mall. From there, it's a "running of the bulls" mad dash for safety, except instead of bulls it's zombies, or at least dudes convincingly dressed as zombies.
zedevents
Zombies with much better tailors than you.
Once you've survived this stampede, you're tasked with missions throughout the mall, all while wondering if a zombie will be lurking right around the corner. And, unfortunately, your ammo is severely limited, so the experience is as much about being able to evade capture as it is about being able to shoot everything in sight. As far as experiencing the kind of adrenaline rush that only exists in the aftermath of a devastating horror movie apocalypse, it's as close as you can get without moving to Detroit.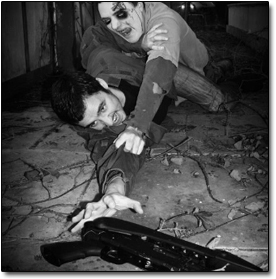 zedevents
The Walmart greeters around there are pretty enthusiastic.