Why is it Awesome?
Okay, we admit the thing looks ridiculous. But we're pretty sure this is what cars are going to look like in the future no matter what we do. And it comes with a robot co-pilot.
The Nissan Pivo 2M is an odd little car that still brilliantly solves many problems that have been plaguing motorists since time immemorial. Instead of one, big, polluting, gasoline powered engine, the Pivo 2 has four small electric motors, one in each wheel. This allows each wheel to move independently, turning sideways for those who have trouble parallel parking, sliding closer to the car while turning for smoother cornering and even moving back and forth when accelerating or braking to make sure those in the cabin always have a velvety, G-force free ride.
The entire pod itself can rotate 360-degrees so that reversing is no longer necessary, and getting into the solitary door at the front of the car is a breeze for everyone, no matter how elderly or drunk your passengers are.
Oh, and it has a robot. The ever-vigilant Robotic Assistant who does many things, not least of which monitors your mood while driving and attempts to cheer you up if you're feeling a bit grumpy; as depressed or angry drivers have been proven to be more dangerous, and more likely to be douchebags. He's like a combination R2-D2 and KITT. You would inevitably become friends and fight crime together.
We'd like to imagine he'd also refuse to open the car door by stating, "I'm sorry Dave, I can't do that" if you're a little too cheerful and sound like you need a good scare.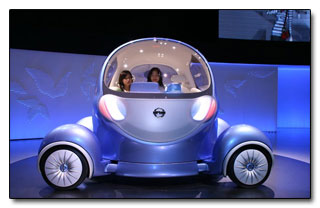 "Why can't I buy one?!?"
As awesome as it would be to have your very own, personal droid to nag you every time you frowned, apparently that technology, along with all of the other innovations on the car, would put the car in the price range of a private jet. Maybe your kids will get to drive something like it.