The Rumor:
Corona beer literally has urine in it!
The Damage:
In 1987, Corona was the number two selling imported beer in America, when this nasty rumor started. Sales plummeted, and didn't recover until years later.
How It Got Started:
Everybody's heard someone use the expression "This beer tastes like piss!" or, if the beer isn't cold enough, "This beer tastes like warm piss!" or, if the beer is Corona, "This beer tastes like warm piss that also has a lime in it!" (There are several variations.) Maybe it's the fact that Corona is yellow, frothy and comes in a clear bottle, or maybe because some Americans still distrust anything brewed in Mexico, in 1987 when someone said "Corona IS piss!", people believed it.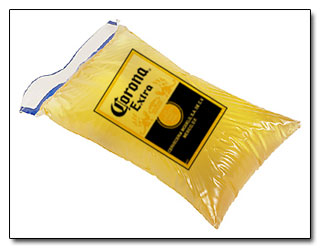 Snopes says the rumor was started by a rival distributor of Heineken. Before it was over, the public had added bullshit confessions by the piss contaminators (written in Spanish) and vague references to either a 60 minute or 20/20 report, neither of which exist. What is more, the collective American bullshit hive-brain estimated that the urine content of Corona ranged from 2 to 20 percent.

It's actually a fairly complex process.
A few disgruntled workers couldn't achieve that level of urine concentration. The implication is that the American public believed that Corona hired professional pissers whose sole job was to drink lots of water and urinate into their product. It is unclear what the purpose of this would have been. It is also unclear whether they would top-up bottles on the conveyor belt, or pee as a group into a large vat, dramatically throwing their ponchos over their shoulders before letting loose.