15 Of The Cringiest Lyrics From The 1980s
You know the old saying, "Well, that hasn't aged well?" We wanted to say that about these lyrics, but most of them aged poorly the moment they hit the page. They're almost a time machine of sorts. The way they transported us back tens of thousands of years to see them engraved in cave walls. Ooga Booga, the '80s. Ooga Booga. What can we expect from a now 40 year old decade defined by corporate greed, cocaine, and hair metal? A time when jocks ruled the world.
We're not here to trash '80s music as a whole, because the decade did provide us with so many great songs from so many great artists. Every decade has cringey lyrics. Most of the time, because of the accompanying instruments and a little twang in the singer's voice, they fly right by, undetected. There's nothing to hide behind when they're just written out on the page. That's when we get to read them and think, "Wow. Not only does this person think this way… They also thought it was something that should be shared with the world." So brace yourself. Here are 15 of the cringiest lyrics penned in the 1980s.
"Parents just don't understand" by DJ Jazzy Jeff and the Fresh Prince
"Hungry Like the Wolf" by Duran Duran
"One in a Million" by Guns N' Roses
"Mexican Radio" by Wall of Voodoo
"Let Me Put My Love Into You" by AC/DC
"Jessie's Girl" by Rick Springfield
"Some Like It Hot" by The Power Station
"Girls" by Beastie Boys
"Shout At The Devil" by Mötley Crüe
"De Do Do Do, De Da Da Da" by The Police
"Dance Hall Days" by Wang Chung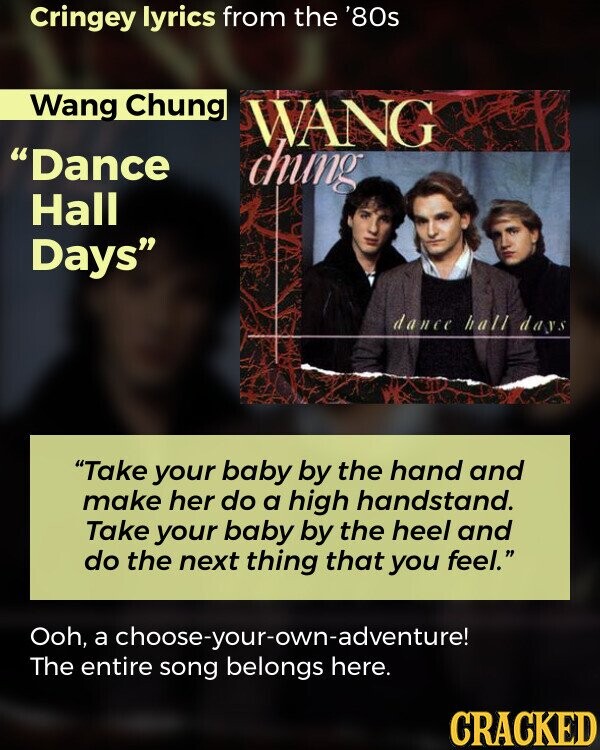 "Let's Get Crazy" by Quiet Riot
"Do They Know It's Christmas?" by Band Aid
"Batdance" by Prince
"I Want Action" by Poison