During the reunion, Jackson offered a peek behind the scenes of that famed speech that, in turn, explained another peek -- the one Boromir has at his groin at the start. As it turns out, that brow-rubbing downward glance wasn't just an acting choice by Bean. Instead, he's peeking at a piece of the script he taped to his knee because Jackson and his co-writer Philippa Boyens had only finished rewriting the speech the night before, forcing Bean to cheat off a crib sheet like he's trying not to flunk AP Literature.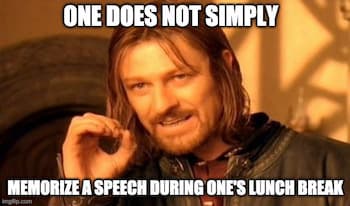 New Line Cinema
Of course, as a billion memes have shown, Bean still delivers a memorable performance despite having had no time to memorize it. On the other hand, perhaps all that chaos gave him the opportunity for some great method acting, conveying the weary frustration of Boromir, who has no time for some hoity-toity elf telling him he has to stroll into Orcland with a bunch of children and a ring-shaped atom bomb, by using his own frustration of having some hoity-toity director telling him he has zero time to learn a career-defining monolog.
For more weird tangents he cribs from a page taped to his knee, do follow Cedric on Twitter.
Top Image: New Line Cinema