But right now, Marvel alone has in production (deep breath) Iron Man 3, Wolverine 2, Thor: The Dark World, Captain America: The Winter Soldier, The Amazing Spider-Man 2, X-Men: Days of Future Past, The Fantastic Four (reboot), The Avengers 2, and Ant-Man. In the course of these films, Thor is going to fight elves, Captain America is going to fight a cyborg, and there's going to be a whole movie about the "Guardians of the Galaxy," which, you may not know, look like this: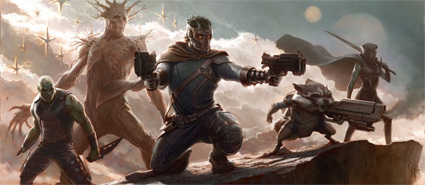 Marvel Studios
"Are you two sure you don't want guns? 'Cause I have like 30 in the ship."
Are you seeing the raccoon?
Marvel Studios
We'll forgive everything if there's a scene where he uses garbage like Popeye uses spinach.
Oh, and by the way, the new X-Men movie -- called Days of Future Past -- revolves around Kitty Pryde sending her brain back in time. So we're saying that we might just possibly be reaching a tipping point here.
Let's back up a bit: