That nose that God forgot actually does more than just invite business cards of bat plastic surgeons -- it can sense the heat of your blood flowing through your veins.
Its nose-lip combo contains infrared heat cells that can sense the warmth of the blood at a distance. That in itself is pretty amazing, because all other mammals (including you) have to, you know, actually touch things with their skin to know they're hot. What if you could just sense that the barrel end of your sister's curling iron was 150 degrees before you accidentally sat on it? But the fact that vampire bats sense heat with their face holes isn't the crazy part.
Wikipedia
It's the fact that they refuse to eat or drink unless it's served to them in a sterling silver bowl.
The crazy part is that they know where the best veins are.
Their system for heat detection is so efficient that they don't waste time tooth-stabbing the hairy parts over and over again to tap a vein, which is impressive, considering that they snack on animals as big as cows. The vampire bat hones right in on the vein, first time, every time.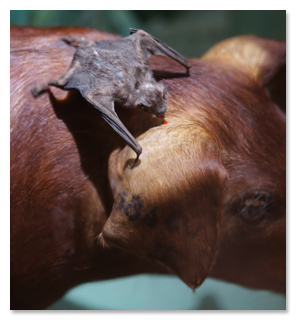 Wikipedia
"Gross, these pork chops are still raw!"