When her husband, Phillip, took a new wife and divorced Olympias, she had him assassinated. Well, we don't know for sure she was behind it, but let's just say she is said to have placed a golden crown on the murderer, dedicated a memorial to him and hung the sword he used to kill Phillip in a temple of Apollo, elevating it to the status of a legendary weapon. She then forced her replacement wife to hang herself and had the two children she had with Phillip killed, assuring Alexander's claim to the throne was unrivaled.
When the now-king Alexander was gone (read: the entire time he was king), Olympias wielded great influence and power, often contradicting the efforts of the guy who was supposed to do that, the regent Antipater. Antipater's many official complaints on the matter went unnoticed by Alexander, who was happy to let his mother do as she wished. Hell, between wanting to fuck her and being scared to death of her, who wouldn't?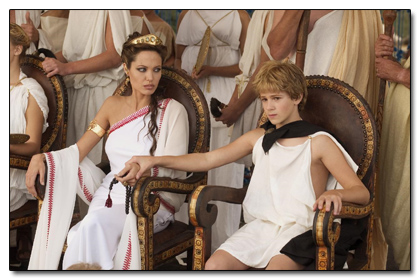 "Mom I gotta be honest, I am, like, six different kinds of uncomfortable right now."
The Final Bitchslap
After Alexander's death, Olympias remained a prominent world figure, waging wars on behalf of her grandson's failed claim to the throne. Most telling is the last message from Antipater to his beloved Macedonian people. On his deathbed, with Olympias eager for the opportunity his vacant seat would provide, Antipater coughed out a warning to the Macedonians to never let a woman rule over them. Not a hot one, anyway.