These people needed purpose in their lives, and for that one morning, their purpose was to get a fucking iPhone even if it meant sitting on the sidewalk all night in front of the Apple store.
Harry Potter and the Deathly Hallows

In July, fans ranging from age 10 to pedophile lined up at bookstores around the world for the midnight release of the seventh and final Harry Potter book. Unlike the iPhone, there were in fact no shortages of the book and everyone involved knew that stacks of them would be available in every single retail outlet and grocery store in the free world the next day, and for the foreseeable future. No, these lines were purely so that the fans could find out Harry's fate that night, rather than getting a good night's sleep and picking it up the next day.
Here was a line, not for the chance to have the desired object, but only to have it a few hours sooner than their friends, so that they would be first to know that (SPOILER) the good guys win and everything turns out OK (END SPOILER).
Nintendo Wii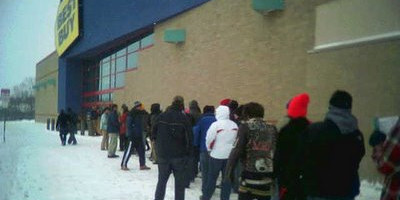 In November and December, the Christmas shopping season arrived, a holiday when the Western world celebrates the birth of free-market capitalism. These days, the most important part of the ceremony is declaring one gift to be the "hot" gift of the season and swarming over it like a school of piranha skeletonizing a cow.
The object of the frenzy is usually some mildly amusing toy that the manufacturer has failed to make enough of. In 2007, for the second year in a row, this was the Nintendo Wii. The Wii was an innovation over previous game consoles much in the same way the iPhone was an innovation over previous phones. Instead of pushing the buttons on the controller to play the game, the user shook the controller like a maraca.
This innovation set the bullshit-buying public aflame, clawing and scratching each other for a spot in line at their local Best Buy, and paying grossly inflated prices on eBay.