We get it. Parenting is hard. Kids are messy, needy and unable to expel waste from their bodies without coating the walls with it first. We also get that it's human nature to invent useless products for people who don't know any better than to just throw gadgets at every problem.
And that's how mankind wound up with ...
Inflatable "Shit On My Face" Potty Seat
Amazon.com
We're starting to think there's some kind of nefarious organization dedicated to building an army of future adults who are horrified of sitting on toilets. Why else would anyone invent this thing?
Yes, you, too, can condition your young children to shit onto a laughing face with eyes that look like eagerness incarnate. And the face is blue for no good reason, so we're guessing it's choking itself for double the pleasure.
On the Go Inflatables
We want to mock this, but for some reason we're just deeply, deeply depressed.
Oh, and it's inflatable. So it's a toilet that you deflate between uses, then re-inflate the next time you need it. With your mouth.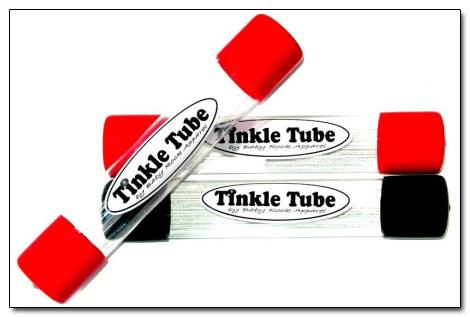 Baby Rock Apparel
At the risk of attracting the wrong kind of Google search traffic to this article, this here is basically a gun silencer for your child's wiener.
If you're reading this, we can presume you know how peeing works, and that little boys don't just have to master the arts of bladder control, anus control and not-staining-their-Underoos control -- they've also got to learn how to aim. If only you had some kind of ... apparatus. Like the Tinkle Tube Toilet Aid. Simply remove the plastic caps and, uh, attach it. Now your toddler has improved accuracy and is trained for a future when all men will be able to upgrade to a robot penis.
Baby Rock Apparel
Is this legal? Can someone check on that?
It doesn't help that the Tinkle Tubers call toddler genitals "little soldiers" or that they seem to think men are absolute idiots when it comes to caring for their own children. Why else would they make this helpful video ...
... where a cartoon dad acts like he'd never taken his child into a bathroom before. In it, the guy just stands there for a solid 15 seconds, baffled by the thought of urinals, until the inevitable moment when the son drenches him in urine.
Baby Rock Apparel
You stay classy, Tinkle Tube.