20 Sequels That Are Better Than the Original
It is commonly agreed that sequels never surpass the original. Of course, although that cliché has on its side the constant deluge of crappy sequels the culture industry drowns us in, there's also the fact that some sequels, actually, kinda rock. In fact, some sequels even end up being better than their originals, like S. Darko. Nevermind, scratch that, we meant to throw that as a joke and now we feel like we have to take a shower. Anyway, there are awesome sequels, and then there are the sequels that can be said to be better than their first parts.
In this Pictofact, we discuss those movies. And we focus not on sequels in general, but specifically on second parts. Quick, name second parts that are better than the first. You're thinking of James Cameron, right? Yeah, we know, we also love Scream 2. But no, we left the J-Cam outside this list, because adding him is just cheating — and we also left out Scream 2, because it rocks, but there's no way it's better than the first Scream. And you know what movie we also left out? S. Darko, because it sucks, we still can't let go of the fact we even mentioned it — aaand we're going for that shower now. Enjoy!
The Godfather: Part II
Spider-Man 2
Mad Max 2: The Road Warrior
The Dark Knight
Star Trek II: The Wrath of Khan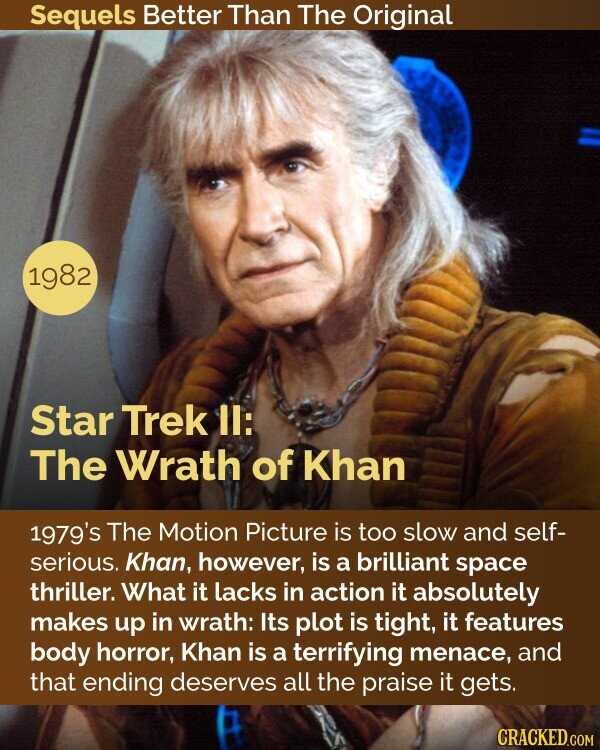 The Hunger Games: Catching Fire
Rocky II
Friday the 13th Part 2
Before Sunset
Timecop: The Berlin Decision
Ouija: Origin of Evil
Evil Dead II
The Empire Strikes Back
Captain America: The Winter Soldier
Back to the Future Part II
Bride of Frankenstein
The Bourne Supremacy
Batman Returns
Addams Family Values
Paddington 2
Scroll down for the next article