"Anybody wanna peanut?" you scream into the face of the man seated next to you. He does not stir. Wow, hey -- he must have some fantastic shit. You rifle through his coatpockets, coming up with myriad bottles, vials and cases of little paper tabs -- most of which have labels typed in something you suspect is not an actual language.
You gasp.
"Do you want to be best friends?" you whisper to his unconscious form, whilst shoveling fistfuls of stolen mystery pills into your mouth from a bottle covered in Wingdings.
Page 2
You awaken on a gray and desolate moor. The damp ground beneath you gives way with the rubbery resistance of moss. The fog enshrouds you completely. It is so dense and immobile that it seems to conceal shapes -- a car here, a row of shrubbery there -- but all vanish beneath your touch. You wander for what seems like days, before finally stumbling from the murk into the cold sunlight of a coastal dawn. You stand atop a broken bluff. Far below you, cloaked men stand before a boat, arguing.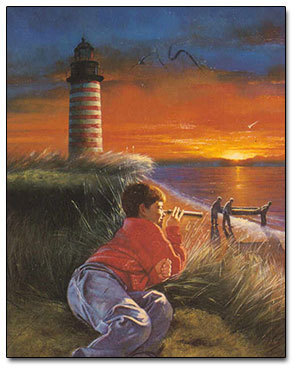 Shit. Do British cops wear cloaks, or is that wizards? Can wizards be cops? You take no chances, flattening yourself to the ground while you observe them.
After a few moments, some of the strange men split off toward the boat, carrying a small, carved wooden box between them. There is something fundamentally wrong about their movements -- something stiff, not quite fluid enough to be human. You catch a glimpse of one's wrist: It is unearthly pale and spotted, as though diseased.