15 Behind-The-Scenes Facts About South Park
Since 1997, Cartman, Stan, Kyle, and Kenny from South Park have been on our televisions to entertain and gross us out with a mix of crude animation, poignant lessons, satire about current events, and lots of poop jokes, sex jokes, and poopy sex jokes. It's almost unthinkable that Kyle was almost killed off the show.
Hmm? Oh, you didn't know? Yeah, Kyle was almost kaput in the season five finale. In fact, there are a lot of interesting facts about South Park that many people don't know about. Did you know the actual makers of Warcraft helped them with their Warcraft episode? Or that there was a chance of South Park airing alongside The Simpsons and Family Guy on network TV?
You don't stay on the air for over 20 years without gathering up some insane behind-the-scenes factoids along the way. Here are just a few little known or remembered facts about South Park.
Trey Parker didn't want "Make Love, Not Warcraft" to air
Matt Stone hates the first three seasons
Episodes are made in a week
Kyle was almost killed off the show
Jerry Seinfeld wanted to be on the show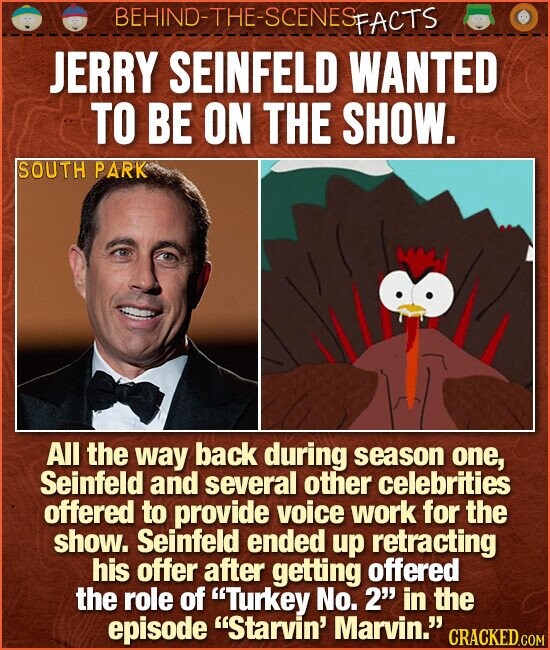 The art style was inspired by Terry Gilliam
"Imaginationland" was almost a movie
Eric Cartman isn't the only one that hates Family Guy
George Clooney was a fan from the beginning
Butters is based on a real person
Blizzard helped make "Make Love, Not Warcraft"
Ike was voiced by Trey Parker's daughter