7 Costumes You Think Are Clever (That Really, Really Aren't)
Halloween costumes are tough -- don't let any of those handsome people who can pull off the front half of a horse costume tell you differently. It's difficult enough finding regular clothes which make you look good, interesting, and worthy of bestowing candy upon. Doing all that with a plastic mask and a $23 budget only makes it tougher. Still, there's no excusing some things. Every year, a handful of people get it in their heads that they're clever, that this time they've got it figured out. They'll wear a cool topical costume -- something everyone's talking about! People will give them all the accolades and candy.
They're wrong, of course -- almost always. Also usually offensive. Here then, for your judging pleasure, are the most topically wrong costumes of 2016, and a deep, completely accurate psychological analysis of the kind of imbeciles who will be wearing them.
Ken Bone
We are not a mature people, us humans. Which is why, during the second presidential debate, when a gentleman named Ken Bone stood up and asked a question, humanity as a whole said, "Hey, that's kind of a dumb name. Let's talk about it incessantly for a few days."

You are not a man. You are a plaything, to be consumed.
And so we did. For a short period a few weeks ago, everyone loved Ken Bone. It was inevitable that this costume would show up within days: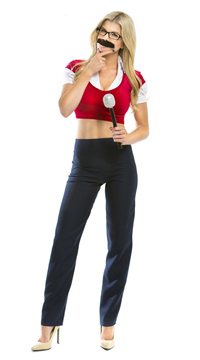 "My question is: Can anything be made sexy, and if so, is it right to do so?"
Later we found out he wasn't entirely the shining hero we'd hoped and dreamed. The backlash was probably a little overblown, because that's just our way, and now no one likes him much any more. Life's weird. Best of luck, Ken.
But that brings us back to the costume -- in either its sexy or voluminous regular red-sweatered forms. In particular ...
Who Would Wear This?
Someone who doesn't know we don't like Ken Bone any more, probably. Also, someone with a red sweater they never get to use.

Outside of Christmas or a murder, your social options are kind of limited for a garment like this.
More generally, as is the case with most topical costumes, it will be someone with a disproportionate understanding of their own cleverness. It will be a dude who is tolerated at best. Someone with friends, but not good ones. Someone who will never know true love, but also never quite understand why.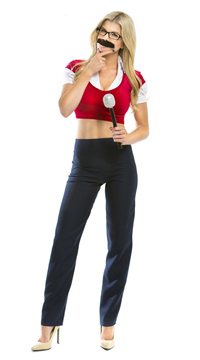 They might be sexy, though. They'll always have that.
Scroll down for the next article