6 Dark (Unnoticed) Details Of The Star Wars Universe
Back in the golden days of the original trilogy, Star Wars was untouchable when it came to questioning the internal logic of its universe -- you can't really sit around and nitpick the scientific inconsistencies of a world involving astro-samurai-wizards and psychic puppets.
But now, thanks to George Lucas turning the Force from ancient magic into space amoebas, never has it been easier to reflect on just how ball-numbingly odd the science and logic of this soon-to-be expanded universe really is. The idea that Star Wars is supposed to be a functioning society of planets around which the crazy events of the films take place creates a slew of terrifyingly unanswered questions, such as ...
Why Isn't Everything Covered In Disease-Infested Poop?
No need to mince space words -- everyone in Mos Eisley should be covered in their own shit. That wretched hive of scum and villainy should be caked in salty droplets of biological garbage due to a desert climate and reckless collection of alien species in the same condensed area. Remember that scrotal-headed, anus-faced band from the Cantina? What are the odds that their planet shares the same diseases as that other butt-mouthed guy who gets his arm lazed off? Or what about the wrinkly butt-headed guy who watches it all happen? Chances are these are not subspecies from a single ass-shaped humanoid world; they must come from wildly different atmospheres -- and now they're all sharing the same lukewarm air.

Which we're guessing smells disturbingly eggy ...
Considering that travel-borne disease and antibiotic resistance is a major problem on just one planet, places like that dank cantina or Jabba's palace are -- at best -- diarrhea farms. And when you think about it: Is this really the kind of place you want to take a harrowing shit?

The (porcelain) throne room.
Jabba's stank-castle doesn't even exclusively cater to humanoids, making the idea of bathrooms and sanitation some sort of twisted riddle. After all, we see many of these creatures eat -- Jabba included -- so it stands to reason that their bodies eject waste. Are they shitting on the floor? Is that pig-man dropping a deuce over the rancor grate when everyone's asleep at night? It's not like they can build one toilet to accommodate every single alien body type in the joint, so where does all the poop go?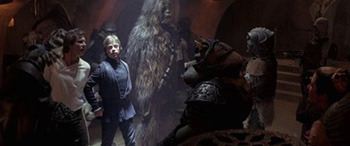 Han's carbonite blindness clears up just in time for him to get pinkeye.
If you're thinking that they must have some kind of futuristic laser waste vaporizer or advanced turd teleportation device, consider that the technologically cutting-edge Death Star had a fucking trash compactor in it:

If you look closely, you can see Lucas' original Phantom Menace idea notebook.
You're looking at the pinnacle of waste management in the Star Wars universe: a big ol' soup of crushed garbage that doubles as a terrarium for a periscoping slug beast.

Did they throw that thing away, or does it just live down there?
And since we know that the Star Destroyers eject their waste into space, it's safe to assume the Death Star also does this, considering that we see these chutes and compactors at work. So let's crunch the numbers: Expanded Universe lore puts the population of the Death Star at a little over a million -- but even if it's half that, the average person poops roughly one pound of waste a day, making the amount of feces alone a solid 500,000 pounds slowly trailing behind the Death Star like a comet's tail. Lord help them if they stop moving for a day, creating a Saturn-like ring of orbiting sludge. And, again, this is the most advanced thing ever. Mos Eisley wishes it had a dirty trash compactor that gets inexplicably jammed by small metal objects.
Speaking of which ...
Scroll down for the next article