After a little stir to dilute the Tang, the result was fantastic! If you don't like cutting up an orange for your Blue Moons and other wheat beers, just start carrying one of these little Tang dealies around, because it is an excellent substitute. I can't think of a beer that Tang wouldn't complement, and to prove that, I tried it in a few more.
Erik Germ

Light beer went just as well as the wheat beer, thought it was kind of like drinking regular Tang in water anyway. It can get pretty dangerous since the "school cafeteria orange drink" taste takes precedent over the beer taste, so it's easy to forget you've actually been pounding brews all night. With the light beer gone and forgotten, I grabbed an IPA.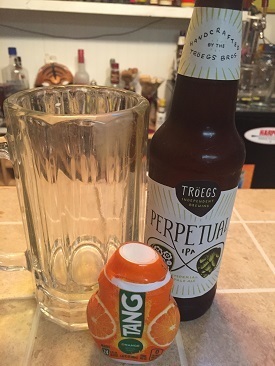 Erik Germ

I am not the biggest fan of IPA, unless that stands for "International Puppy Association," in which case, sign me right the fuck up. But since it is in reality a pale ale the likes of which I don't normally fuck around with, I was all too excited to shoot some of my Tang. The result was, once again, refreshing and tasty. The orange and the bitterness of the ale do a swirling dance of deliciousness that may have just turned this old Scrooge around on IPAs. Seriously, Tang has become my spirit animal. As far as I'm concerned, there's nothing this little bottle can't fix!
Erik Germ
Fuck ...
All right, maybe I spoke too soon. When Bundy references the Bundy Mimosa, I think I can indisputably confirm he isn't talking about Guinness, because it tastes like an accident. Not like "Oops, I accidentally added some delicious Tang to my delicious Guinness." More like "Oh man, if a horrible car accident had a taste, it would probably taste a lot like this."
Tang almost batted a perfect game, but the Guinness was just too strong. Your taste buds want either the Guinness or the Tang, so it's a constant battle over who reigns supreme. The only way I could see it working is if you've already Tang'd five or six beers until you finally arrive at the "I'll drink anything in a glass" part of the evening. Since I had a long night ahead of me, I just decided to quit while I was ahead and move on.