Before Ed O'Neill was arguably the best part of Modern Family, he was Al Bundy in the '90s sitcom Married With Children. Bundy is a hero for the everyman, a rude, lazy underachiever who hates his life and everyone in it. That's great fodder for some creative uses of alcohol, like in the Season 11 episode "Bud On The Side." In this episode, beer and Tang come together in a grand ceremony of white trash mixology. I hadn't had Tang since I was a child and hadn't had beer since an hour before sun-up, so I was excited to jump right into this one.
The Drink
Ingredients
Beer
Tang
Erik Germ

I didn't even know they still made Tang, but I managed to find some at my local Walmart next to the guns and the section with broken patio furniture. And I'm glad I did, because Tang is lit as fuck! I couldn't find the powder stuff locally, but I managed to find these little, easy-to-use bottles that let you squirt your Tang all over the place. The bottle says "One squeeze for every 8 ounces of liquid," but since math is for nerds, I just decided to go buck wild with the stuff. I chose a Hefeweizen to start off with, because you're supposed to complement it with orange anyway, and this makes for an acceptable middle ground. After pouring my delicious beer, I gave it two blasts of Tang.
Erik Germ

After a little stir to dilute the Tang, the result was fantastic! If you don't like cutting up an orange for your Blue Moons and other wheat beers, just start carrying one of these little Tang dealies around, because it is an excellent substitute. I can't think of a beer that Tang wouldn't complement, and to prove that, I tried it in a few more.
Erik Germ

Light beer went just as well as the wheat beer, thought it was kind of like drinking regular Tang in water anyway. It can get pretty dangerous since the "school cafeteria orange drink" taste takes precedent over the beer taste, so it's easy to forget you've actually been pounding brews all night. With the light beer gone and forgotten, I grabbed an IPA.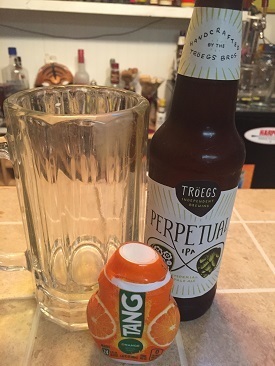 Erik Germ