Since I just got over the hangover from drinking enough fictional cocktails to kill a herd of moose, it makes perfect sense to do it again. Recovery is the body's way of asking you, "Is that all you got, pussy?"
Now, it would have been easy for me to learn from my mistakes and choose drinks that don't look threatening and won't tear up my insides. But I'm a man of the people. And the people insist that making and testing fictional cocktails isn't entertaining unless an ambulance is in my immediate future. So I combed through Facebook, Twitter, and the comments section of my last article and found some suggestions for some really wretched-looking garbage drinks.
However, before you ask: No, I didn't drink a Pan Galactic Gargle Blaster from The Hitchhiker's Guide To The Galaxy. Not for lack of trying, but when Douglas Adams invented that cocktail, he had an entire universe to play with. Where the hell am I supposed to get Arcturan Mega-gin? I live in a place where it's illegal to sell alcohol in the grocery store, so we have two separate stores. My options are limited to what I can find around the house. That being said, the drink's effects are described as "similar to having your brains smashed in by a slice of lemon wrapped round a large gold brick." I had a lemon and a gold bracelet lying around, so I figured I'd give it a whirl.

We call this "ingenuity."
And it went great!

Hey, thanks for the suggestion, guys!
So, if we're satisfied with that, on to Round 2!
Funky Juice:

30 Rock

(Suggested By Seattlantis)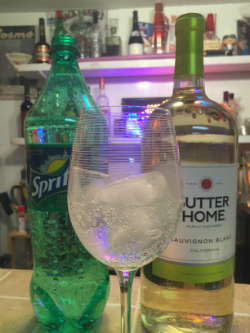 I'm going to start this thing off nice and easy. And don't give me any shit for it -- even MMA fighters start off training for stamina long before they learn how to apply a rear naked choke. Funky Juice is my stamina training. This drink is from the 30 Rock episode "It's Never Too Late For Now" as a signature drink for Liz Lemon.
The Cocktail:
Ingredients:
White wine
Ice cubes
Sprite
No surprise here, Funky Juice is just dripping with funk! The good kind of funk, though, not the one that means depressed or smelly. FJ results in neither of those, as a matter of fact. If I had one criticism, though, it would be that you have to balance the two just right for the perfect combination. If you use too much soda, you just end up with wine-flavored Sprite that doesn't get you hammered. If you use too much wine, you end up with a drink that tastes like the wine you left out the night before but your "fuck it" attitude told you to drink the flat-tasting swill the next morning anyway. We've all been there, right guys?

Guys??
Once you get that perfect balance, though, you are left with a pretty delicious beverage. I've never had a wine spritzer, but I'm pretty sure this would be a second or third cousin to that. However, Bruno Mars didn't write any songs about "Uptown Spritzer," so I think the Juice is the clear victor here.
The Nectar Of 1,000 Sorrows:

Parks And Rec

(Suggested By Toastygod)
So wine and soda are a winning combo! Which is great news, because the next item on my list is another soda-wine mashup. This time it comes from the Parks And Rec episode "End Of The World," which turns out to be quite the fitting title for this entry. You know that old saying, "never let your guard down"? Well, I let mine down because of the Funky Juice, and as a result my defenses and cognitive reasoning flew right out the window as I dove into the Nectar.
The Cocktail:
NBCUniversal Television Distribution
You lied to me, Macklin.
Ingredients:
Root beer
Red wine
Simple enough, right? A nice glass of wine complemented with your standard bottle of root beer. My initial process was to add a fair amount of the wine to the glass, then pour the same amount of root beer.

Being a grown-up is awesome.
I should mention right about now that I filmed each of these in case something screenshot-worthy happened. I expected I would spit-take at least one of these drinks, but I was not expecting it to be the second fucking one I tried.

Setting a real bad precedent for the rest of the entries.
I guess this is my way of saying this wasn't a very good drink. My first impression is that it tastes like something you know you shouldn't be drinking. Like a "mom locked this up under the kitchen sink so her stupid kids wouldn't drink it" kind of taste. I got the same bubbly wine sensation I got with the Funky Juice, but the two flavors don't complement each other in any way. Almost as if no one intended for mankind to combine sassafras, tree bark, and grapes into a liquid form. But I made my bed, and now I have to drink it.
I think the worst part of it was how it settled in my stomach. I felt the two wrestling down there almost the entire rest of the night. I can confirm that there is a generous number of sorrows that come with this nectar, and each one is worse than the last.