Ben Stiller: 14 Movie And General Now-You-Know Facts

Welcome to ComedyNerd, Cracked's daily comedy Superstation. For more ComedyNerd content, and ongoing coverage of the Iran/Contra Affair, please sign up for the ComedyNerd newsletter below.
The son of veteran comedians and actors Jerry Stiller and Anne Meara, Benjamin Edward Meara Stiller was born on November 30th, 1965 in New York City.
He's come a long way from his five episodes of SNL, and possibly the most love-to-hate characters of all time in 1996's Happy Gilmore, so in case you wanted to bone up on some Stiller trivia, here's 15 little-known facts about that Blue Steel poser.
He was the drummer of a punk band.
In high school, Stiller was the drummer of the punk band "Capital Punishment", which actually released a studio album "Roadkill" in 1982. 
He said, "My high school class celebrated its 30th reunion and I saw a bunch of old friends again - the members of my old band, Capital Punishment. We weren't particularly good, but since we all met up again, we've had a couple of jam sessions, and it's been a lot of fun playing the drums again!"
Jim Carrey was the first Greg Focker.
That would've been a whole different movie.
In Meet The Parents, Stiller's character Greg Focker was originally supposed to be played by Jim Carrey.
Carrey was so involved with the film that he actually contributed to the screenplay, and it was even his idea to name the character Focker.
Blue Steel is a Ben Stiller original.
Those cheek bones!
The inspiration for Derek Zoolander's signature look came from the face he makes whenever looking in the mirror and grooming himself.
His wife, Christine Taylor, pointed out the ridiculousness of the face, and he found a great way to use it for good.
He made his acting debut with Mom.
The Stillers really wanted Ben to take up the family business.
At only nine years old, he made his acting debut as a guest on his mother's short-lived television series, Kate McShane.
He suffers for his art.
Great timing on that "stunt" fellas.
In There's Something About Mary, the scene when Stiller's character Ted is dropped from the stretcher wasn't scripted - it was an accident. The Farrelly brothers decided it was too funny to cut and, after the crew checked on Stiller, they pressed on and kept it in the film. Another slight injury on set was in the fight scene with Puffy, where he hits his head on a chair.
He recently reunited with his wife.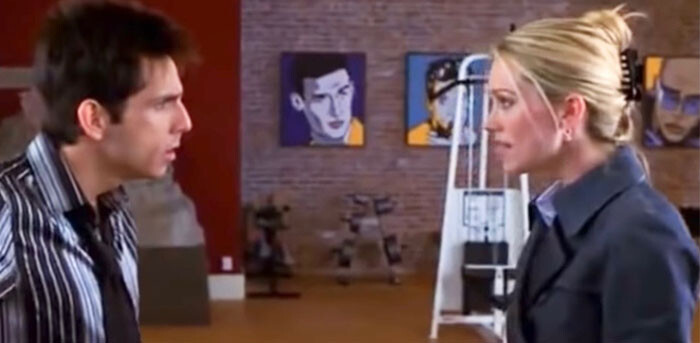 Back in May 2000, Stiller and actress Christine Taylor were married in Kauai, Hawaii. They've appeared onscreen together in Zoolander, DodgeBall, Tropic Thunder, Zoolander 2, and Arrested Development.
They have two children together - a daughter, Ella Olivia, born April 9, 2002, and a son, Quinlin Dempsey, born July 10, 2005, but in May 2017, they separated with intentions to divorce.
During the early days of the pandemic, Taylor invited Stiller to live with her again so they could both be with their two kids, and they reconciled.
Stiller said, "We were separated and got back together, and we're happy about that. It's been really wonderful for all of us. One of the good things that came out of the pandemic."
He's a Trekkie.
As a self-professed Trekkie, he appeared in the television special Star Trek: 30 Years and Beyond to express his love of the show, and the Comedy Central Roast of William Shatner.
He even named his production company "Red Hour Films" after an alien riot in the 1967 episode Star Trek: The Return of the Archons, and has sprinkled Star Trek references into movies like Tropic Thunder and Zoolander.
He's in the Guinness Book of Records.
Okay, so one good thing came out of Zoolander 2.
On February 6, 2016, Stiller set the Guinness World Record for longest selfie stick (8.56 meters) at the World Premiere of Zoolander 2.
He's involved with many charities and philanthropy.
It's nice to give back.
Ben Stiller is (or has been) involved with several charitable organizations, such as 'Declare Yourself' (an initiative to energize and empower young voters), 'The Elizabeth Glaser Pediatric AIDS Foundation,' and the 'Starlight Starbright Children's Foundation.'
Since 2016, he has been involved with UNHCR, the UN Refugee Agency, where he met refugees in Germany and Jordan. In 2018, he was named Goodwill Ambassador, and he has visited Guatemala, where he was able to meet with refugees from El Salvador, Guatemala, and Honduras. 
He beat prostate cancer.
Fight the good fight.
In June 2014, his doctor recommended that he undergo a baseline PSA test even though he had no symptoms and had no known risk for this cancer. Stiller was diagnosed with prostate cancer. 
He opted to remove the tumor with a robotic-assisted laparoscopic radical prostatectomy, and he was fortunately declared cancer-free in September 2014.
He said, "Taking the PSA test saved my life. Literally. That's why I am writing this now. There has been a lot of controversy over the test in the last few years,"
The Meet The Parents trilogy has grossed over $1.1 billion worldwide.
Successful little Focker, ain't he?
Alongside Robert De Niro, his role as male nurse Gaylord Focker in Meet the Parents received widespread acclaim and helped the movie gross more than $330 million worldwide.
The sequels Meet the Fockers and Little Fockers grossed over $522 million and $310 million, respectively.
Tropic Thunder was his baby.
Stiller got the idea for Tropic Thunder on the set of Steven Speilberg's Empire of the Sun in 1987.
He said, "The actors were going to fake boot camp, and talking about these incredible experiences that really changed their lives. It was funny because people who actually went to war (or actual boot camp) would have had actual transformative experiences."
Then in 2008, he co-wrote, co-produced, directed and starred in Tropic Thunder.
He loves a good music video cameo.
And he's had some great ones.
He rolls up and throws the keys to his Bentley to Fred Durst in Limp Bizkit's "Rollin'" music video, he casually strolls by Tenacious D's performance in their "Tribute" music video, and plays a great "pissy neighbor" in P. Diddy's "Bad Boy for Life".
He's also heavily involved in Jack Johnson's music video for "Taylor."
His Meet the Parents bomb rant isn't shown on airplanes.
Makes sense.
Focker's rant about saying the word "bomb" on an airplane is pretty hilarious, but it turns out airlines are incredibly serious about it.
When Meet the Parents is shown on airplanes, the "bomb rant" is cut from the film. 
Top Image: TriBeCa Productions & Nancy Tenenbaum Productions