Back in the Hoobastank days, a Republican National Committee researcher sent an email to his boss and copied in the Florida director of George Bush's reelection campaign, who had an email address at georgewbush.com. The email was titled "Caging," and contained a list of 1,886 mostly African-American voters in Florida. Republicans had been blanketing Democratic-leaning areas with campaign literature sent by first-class mail, and anyone whose mail was returned to sender had their name added to a "caging list" of votes, which could be challenged on the grounds that their registered address was incorrect.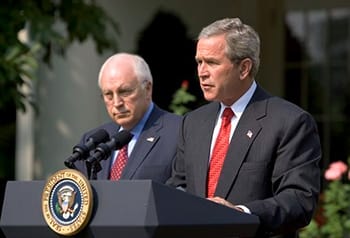 White House ArchivesIt was sort of a popular activity that year.
But the researcher typed georgewbush.org instead of .com, possibly because he sucked at his job. The .org site was a parody page run by domain squatter John Wooden, who sent the email to the BBC. A BBC investigation inferred that the Bush campaign intended to use the lists to challenge massive numbers of black voters on Election Day. The GOP denied the accusations, obviously, but couldn't explain why the leaflets were sent by first-class mail (campaigns generally never do this, as it's expensive and serves no purpose ... unless you want undelivered mail returned), nor why "useless" information about returned mail in Florida was being sent to the RNC research director in Washington. So the next time you screw up and accidentally copy a surprise party recipient on the planning email, console yourself with this story.