Absol was probably inspired by the Chinese story of Bai Ze. This creature told the first Chinese emperor all about all 11,520 types of evil monsters in the world and how to fight them. And he looked like this:
Via Wikimedia Commons
Maybe this isn't the ideal source for monster-killing advice.
Japanese people said "We'll see your human-faced ox, and raise you about nine eyes and six horns for good measure." Thus the kutabe was born:
Via Ameblo.jp
Seems like the village storyteller may have been hitting the sake a little harder than usual for this one.
We can't figure out which is scarier -- that ancient mythology decided there are exactly 11,520 demonic spirits in the world, or that a man-faced ox with eyeballs on his ribs was the creature to give us the plan for defeating them.
Remember the Pokemon Whiscash? It's a goofy-looking catfish thingy: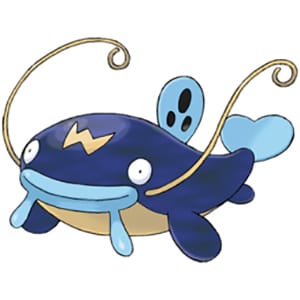 Nintendo
Cute, right? It looks like it belongs on an episode of Rugrats or Doug, or your very first attempt at drawing a fish in kindergarten. Whiscash isn't so adorable once you find out it was probably based on the Namazu, a giant crazy-eyed catfish that caused earthquakes.
Via Scientific American
Gotta respect the guy elbow-dropping its face. Everyone else brought knives and spears; he simply brought balls.