Neither of which exist in this universe, since people still use MS-DOS.
But, connecting these two movies opens up a whole other universe of possibilities. We already know, for example, that the Alien movies take place in the same reality as the Predator ones -- not just from the regrettable Alien Vs. Predator crossover series, but also from the end of Predator 2, when Danny Glover sees a Xenomorph skull among the Predators' trophies.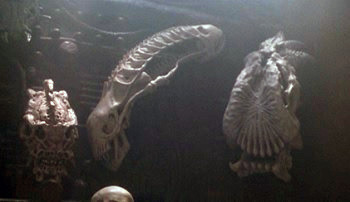 20th Century Fox
It uses the Xenomorph's tongue jaw as a back scratcher.
So, when replicant Roy Batty said, "I've seen things you people wouldn't believe" at the end of Blade Runner, he may have been referring to two Predators 69-ing or having a three-way with a Vulcan. No, really.
Remember Soldier, the 1998 Kurt Russell space punch-fest no one remembers? Probably not. It's about a bunch of soldiers genetically engineered to be badasses, much like the replicants -- which is no coincidence, since it shares a screenwriter with Blade Runner, and he openly called Soldier a "side-quel" to that film. There are other shout-outs to the Alien-verse in Soldier, but that's not all: A scene detailing past missions of the main character lists "Nibian Moon" and "Antares Maelstrom," which are, of course, places mentioned in Star Trek II: The Wrath Of Khan.
Warner Brothers