"Bet you can't create an actual goblin."
The gene variant responsible for the mangy taint look wreaks havoc with the cats' hair follicles, leaving them unable to produce and/or maintain the soft fur that normally makes cats appealing. The scattered spikes of hair that do manage to proliferate from the animal's leathery skin give it the appearance of a miniature Benicio Del Toro in that werewolf movie, whose discussion is best left to the annals of history.
Universal Pictures, Greg Mosier/YouTube
One can be killed only by a silver bullet, the other enjoys belly rubs. We're a little unsure which is which.
Fortunately, these cats don't appear to suffer from any adverse health effects so far, though geneticists and veterinarians warn that potential problems might not manifest themselves until the animals are 6 or 7 years old. And since the Lykoi cats are a recent invention, breeders are currently holding on to a lit stick of genetic dynamite and hoping it's a dud.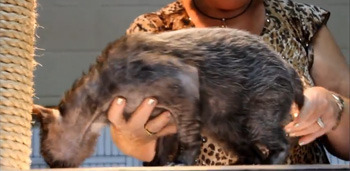 Greg Mosier/YouTube