Think about the strings that would have to get pulled, not just to perform that elaborate kidnapping under the noses of all of this guy's armed guards (in his own building, in his home country), but to then get out of the country after. We're talking about escaping who knows how many police waiting on the ground at every nearby airport and/or all of the jet fighters that Hong Kong would use to intercept the slow-flying plane that just took one of their citizens hostage. It's the kind of operation that very few governments could pull off, yet Dent and Gordon are saying, "Yeah, our local costumed vigilante could do it for us."
This also means that you have to think of a very convincing alibi for Bruce Wayne -- by the way, "He absconded with the entire Russian ballet" isn't one, because there's an entire Russian ballet that knows it isn't true.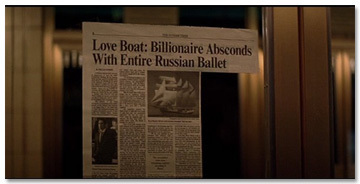 "Bruce is the old British dude, right?"
And it wouldn't have been hard for somebody to figure it out after the fact. Lau disappeared right after meeting with a Wayne Enterprises employee (Morgan Freeman), who traveled across the world for basically no reason. Did no one think that was weird?
The point to all of this is, why does the movie introduce all of those complications? If you just wanted that cool skyscraper/plane scene, couldn't the accountant have escaped to Denver or Metropolis or something? No, they wanted to insert that whole bit about how justice trumps those petty rules about "jurisdiction" and "the sovereignty of other countries." Besides, cutting it would mean that Nolan would have been left with just the other 19 allusions to the War on Terror in the movie, and we can't have that.