The Real Thing:
National Geographic
That would be the Cueva de los Cristales in the Naica Mine of Chihuahua, Mexico. And we dare say that it's actually more impressive than the comic book and movie locale.
It's true that there are lots of crystal caves in the world -- Steven Seagal started naming albums after them, after all. However, amid the countless ones that amount to little more than the Glitter Club Meeting Caves, there are a few that can grab you by the brain and gouge your eyes with furious wonder.
Cueva de los Cristales is every single one of them. On steroids. The sheer size of this thing is just stupid.
National Geographic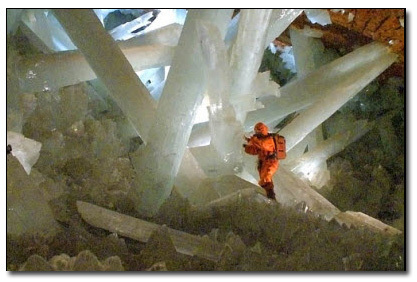 Reflections from Thailand
What strikes you first is the scale of these things. Then it strikes you again.