Five thousand people live and work on Neft Dashlari, right there in the face of logic and Poseidon alike. But don't go thinking it's all bleak and inhospitable: Neft Dashlari is most of the way to a real city. Its features include electric power stations, a library, apartment buildings up to nine stories high, hostels for visitors/guests, hospitals, Palaces of Culture, bakeries and even lemonade workshops (leave it to the Soviets to append "workshop" to something as innocuous as "lemonade.")
Via Skyscraper.talkwhat.com
They went a little crazy on the swimming pool, though.
But if there's one thing the Soviets weren't exactly known for, it was the reliability of their engineering; they always did prefer to glue things together with a combination of balls and aggressive optimism. As such, Neft Dashlari is now falling apart. Roughly 75 percent of it has rusted away, but the local citizens aren't leaving, because there's still enough oil to keep that bad boy running for another 30 years, or until the Splicers revolt. Whichever comes first.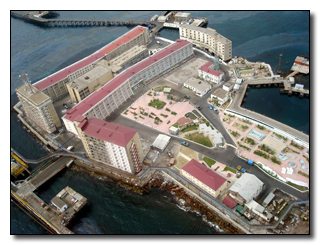 Via Skyscraper.talkwhat.com
Our guess? The founder of PayPal turns it into libertarian fantasy island.