... post-war era storefronts:
... and maybe even the Old West: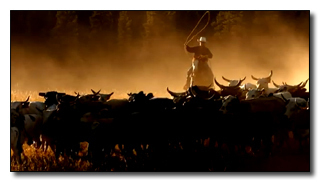 Remember the good old days of living in filth and getting trampled by cows?
Those are all from a current ad for Newt Gingrich's presidential campaign, but you've seen variations of it from every politician who has run for office since television was invented. The ads are aimed at older voters, and all hit the same button: "Don't you vividly remember how much better things were before?" It's not just politics, either -- around the holiday season, watch how many ads hammer the "Remember how great Christmas was when you were a kid?" message, like this Acura ad that cuts from happy kids opening presents to an adult buying a new car. The tagline: "The joy is back."
Well, those nostalgic ads work because they can not only make you remember the past, but can totally plant fake memories in your mind. The reason your grandpa remembers the 1950s as nothing but friendly neighbors and soda fountains is because ads and TV shows have been hammering his brain with those images for five straight decades.

Ah, the atomic age was the best!